Ibrox drama festival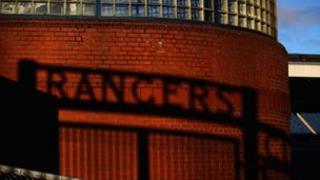 Who needs to qualify for the Euro 2012 championships when you have end-to-end footballing drama at Ibrox instead?
The assets of Rangers football club are now in the control of The Rangers Football Club, with Charles Green as chief executive.
Rangers Football Club plc, a different legal entity with a history going back to the 19th century, is now merely a bank account with £5.5m sitting in it, waiting for distribution to creditors - if, that is, there's anything left over after administrators Duff & Phelps has taken its fee.
It could take up to 10 weeks for a formal handover to liquidators. One reason for that might be that, while it remains a legal entity, the plc has membership of the Scottish Premier League.
So the administrators should be able to use the club's vote when it comes to the vital decisions on how Rangers is to be punished for its financial wrongdoing. More on that in my earlier article Sky sets the limit.
So what about the new company that controls Rangers' assets? The four investors named by Charles Green today don't include the two he named in May. And one of the four, Ian Hart, has already said he supports the bid launched earlier today by Walter Smith.
Charles Green has repeated his pledge that no one shareholder should have more than 10% of shares.
Indeed, there are heavy hints that ownership will be further diluted by flotation of the new company, to raise money from new investors. Those now on the board bring with them experience of such floats, and Charles Green was taking the opportunity to invite others to write a cheque.
Walter's no softy
The others he was specifically talking about were in the consortium led by Walter Smith. The former manager spoiled Charles Green's party with an intervention which, on the surface, looked extremely naive - asking Green to step aside when it was already clear the administrators would sell to him, and within minutes.
But it may not have been quite so naive. The bid was preceded this morning by a newspaper story that manager Ally McCoist was ready to quit, believing he can't work with Charles Green.
Headed by Walter Smith, a mentor to McCoist, the statement named two supporters; Douglas Park, the motor industry magnate who is among Rangers' richest supporters, and Jim McColl, who is not a noted Rangers supporter, but is one of Scotland's richest and most successful businessmen.
McColl was reported to be interested in buying the club before Craig Whyte appeared on the scene, but said he was only involved if others wanted his advice and expertise.
He wasn't interested then in buying Sir David Murray's stake. And unless that view has changed, his backing for Walter Smith may be more advisory and symbolic than it is financial.
The big Rangers' supporters groups followed up on Walter Smith's intervention with statements backing it, urging Charles Green to step aside, and advising fans not to buy season tickets until "the situation is resolved".
The fans know they have a powerful lever over Charles Green, as there's no evidence he has the working capital he needs to run the club.
Season ticket income looks vital if he's to avoid pitching the club back into administration. So Charles Green now has control of the assets, but faces hostility from his customers.
That's not a good place to be. The Walter & Co consortium is reported to be offering £6m for the assets. That would be a £500,000 profit on the price that's been paid today.
Not bad for a day's work, except that there were costs involved in putting the bid together. Charles Green's team reckons the total bill so far - including the fee paid to the administrators - is £10m.
The right stuff
That looks like the starting point for a negotiation.
But if Walter & Co get what they want for, say, the mid-point of £8m, what then? The former manager's statement gave very little indication of how his people would run the club, except to say they don't want to.
"This is an acquisition designed to stabilise the club and ensure history does not repeat itself," said the former manager.
"We are not in this to take money out of the club, but moreso to do whatever it takes in a turnaround plan to ensure within a few years the club can be passed on in tact and to the right people".
Who are the right people for Ibrox? No, I don't know either.