MoD pledges to 'protect' cap badges of Scottish regiments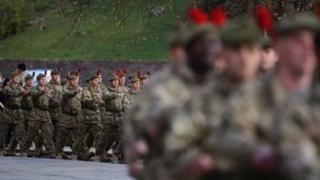 The Ministry of Defence has said it is seeking to preserve the regimental cap badges of Scotland's historic army regiments.
The move follows widespread speculation that famous names such as the Black Watch could disappear.
The MoD insisted no final decision had been made, but said the regimental system was "fundamental" to the future of the Army.
And a spokesman added: "We will do all we can to protect cap badges."
The Royal Regiment of Scotland was formed in 2005 through the amalgamation and disbandment of some regiments to form five batallions.
Other Scottish raised regiments include the Scots Guards, the Royal Scots Dragoon Guards and the 19th Artillery Regiment the Highland Gunners.
There has been speculation that some Scottish batallions could be merged or axed as part of an Army reorganisation.
Last week First Minister Alex Salmond described any move to drop the names as "arrogance" on the part of the UK government.
And on Wednesday, a cross-party campaign was launched at Westminster with the aim of protecting the historical names and identity of Scotland's regiments.
Details of the coalition's reorganisation plans are due to be published in the coming weeks.
A spokesman for the MoD said: "We will do all we can to protect cap badges.
"The secretary of state for defence has been clear that the regimental system is valuable and fundamental. We are not going to change that."