Scotland Inspired: James Robertson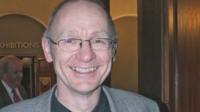 Who and what has shaped some of Scotland's most creative minds?
BBC Scotland has launched a major series - Scotland Inspired - tracing Scotland's artistic family tree , with prominent figures choosing Scots who have inspired them.
Poet and novelist James Robertson is also a publisher of poetry and of children's books in Scots.
Robertson is regularly cited as one of the best writers in Scotland and an exponent of the contemporary historical novel.
He was Booker prize-nominated for The Testament of Gideon Mack and his 2011 novel And the Land Lay Still garnered huge critical acclaim.
Robertson is a long-standing champion of the Scots language and was founder of Itchy Coo, the children's imprint for books in Scots.
BBC Radio Scotland - Scotland Inspired, Episode Six - Tuesday 5 June at 13:45