Charity says families being failed over early years care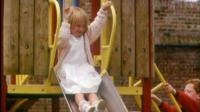 A children's charity has said families in Scotland are being failed by early learning provision.
Children in Scotland (CIS) wants the Scottish government to pledge more funding to develop learning services for those under the age of three.
The charity said the Scottish government was missing a European target to provide full day educational childcare for three in ten youngsters.
The government insisted it had made "significant" investment in services.
CIS said that, as things stood, just one child in every 20 was given full day educational care.
It added that the provision of care and education remained separated in Scotland, despite studies showing the two worked better when integrated.
They are urging ministers in Scotland to use European structural funds to explore new models for early years services, and have written to the first minister calling for a review.
'Improved childcare'
The charity's chief executive, Bronwen Cohen, said parents who have to fund their own nursery places were already feeling the pinch.
She said: "We have over half of mothers and over 90% of fathers of under threes who are actually economically active.
"And yet their employment is constrained and indeed communities are being affected by the kind of problems caused by the inadequacies of provision that they're facing."
The Scottish government said its ambition was to make Scotland the best place for children to grow up.
A spokesman said: "This government has made a significant investment in early learning and childcare, including £4.5m towards early learning and childcare for looked-after two-year-olds, and a further £4.5m to promote community based solutions to family support and childcare."
He added: "In March, the first minister announced a legislative commitment to the future of Scotland's children and families, pledging to increase the amount of free nursery education from 475 hours a year to over 600 hours.
"The move will create the best package of nursery education provision on offer anywhere in the UK, and will help families by delivering improved childcare to around 120,000 children across Scotland and will apply to every three and four year old, as well as the most vulnerable two year olds."