Strategy to get Scotland's museums and galleries working together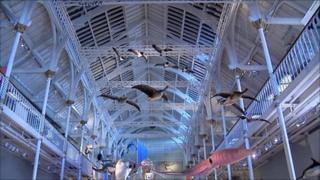 Museums and galleries in Scotland will be encouraged to share costs and work more closely together, as part of a new national strategy.
The strategy aims to connect Scotland's network of museums and galleries, in a bid to save money, as well as fostering greater collaboration and innovation.
Culture Secretary Fiona Hyslop said the sector will also receive £3.3m in grants over the next three years.
A new national development body will be set up to implement the strategy.
Attracting people
Launching the plans at Bo'Ness and Kinneil Railway, Ms Hyslop said the plans represented an opportunity for organisations in the museum and galleries sector to "commit to its future".
She said: "Our museums and galleries welcome around 25 million visitors every year, attracting people to all parts of Scotland and making a vital £800m contribution to the Scottish economy.
"We simply cannot underestimate their significant educational, social and economic value."
Museums Galleries Scotland are making transitional arrangements to become the new National Development Body, which will have responsibility for delivering the strategy.
Fiona Ballantyne, chair of Museums Galleries Scotland, said the plans would allow them to "set out with a very strong sense of purpose and future direction".
'Economic Sustainability'
The strategy has six aims: to maximise potential, strengthen connections, empower a diverse workforce, forge a sustainable future, foster collaboration and develop a global perspective.
It states: "Economic sustainability is without question a key driver. However, other factors such as new technology, changes in local authority structures and continued sector and audience growth affect everything from employment to service delivery."
Dr Bridget McConnell, chief executive of Glasgow Life, a charity which is responsible for a number of Scottish museums, explained that Glasgow museums had already begun to forge partnerships with a number of other cultural organisations across the country.
She said: "This is an exciting development which will see museums and galleries across Scotland working together to ensure the widest possible access and enjoyment to our rich collections.
"Ahead of implementation of the strategy, we have already forged strong working links with the National Galleries and Glasgow University."