Cocaine users in Scotland 'spend £114 a day on their habit'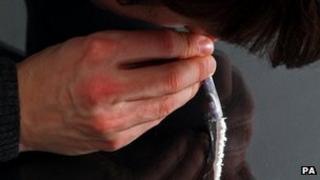 Cocaine users in Scotland spent an average of £114 a day to feed their habit last year, a report has revealed.
The figure, for a "typical" drug-using day among those seeking treatment, has risen by 31% over the last five years.
But the report,Drug Misuse StatisticsScotland 2011, said average daily spending by heroin addicts remained stable at £33 over the same period.
The majority of addicts seeking treatment (70%) said their drug use was funded by benefits.
Heroin continued to be the drug most commonly abused, although the figure of 62% was a 5% fall over the year.
However, the report said the figure had fluctuated since 2006/7.
A third (33%) of heroin users also reported illicit diazepam use.
Cocaine use remained stable at 8%, but crack cocaine use was down to 3%.
The report, published by the Information Services Division, said drug misuse appeared to be falling among young people.
Young people
But it also suggested many addicts had been using drugs for more than a decade.
The minister for community safety and legal affairs, Roseanna Cunningham, said the report offered both good and bad news.
She said: "Significantly fewer young people are using illegal drugs and placing their health and lives at risk.
"However, we are seeing a cohort of hard-to-reach individuals who have been using drugs for more than a decade.
"They are getting older and their risk of drug-related death is greater."
Drug treatment
Older drug users were more likely to abuse heroin - 65% of those over 25 reported using the drug, compared to 23% of 15 to 19-year-olds.
The figures suggested the proportion of new clients over the age of 30 being seen by drug treatment agencies had risen to 60% in 20010/11, up from 51% five years ago.
In the past year a total of 10,813 new clients were assessed for specialist drug treatment.
The government said it had invested record amounts in frontline drug treatment services to ensure those who wanted help could get it.
But the Scottish Liberal Democrats' health spokesperson, Alison McInnes said: "This survey shows that it is getting more difficult to reach long term drug users.
"Addicts need to be assured that if they want to get up and get on and leave the scourge of drug abuse behind, rehabilitation services will be available to them.
"The Scottish Government needs to ensure that this is the case."