Scottish independence: Rupert Murdoch tweets 'Let Scotland go and compete'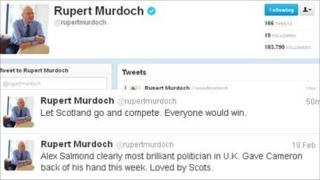 Media tycoon Rupert Murdoch appears to have signalled his support for Scottish independence via the social media network Twitter.
The owner of News Corporation tweeted the message: "Let Scotland go and compete. Everyone would win."
It follows a message on Sunday which described Scotland's First Minister Alex Salmond as clearly the "most brilliant politician in the UK".
News Corporation owns UK newspapers including The Sun and The Times.
The Scottish Sun, which is Scotland's best-selling daily newspaper, backed Mr Salmond's SNP at last year's Scottish Parliament elections but it did not support independence.
Mr Salmond has named autumn 2014 as the time he wishes to hold a referendum on independence.
A spokesman for Mr Salmond said: "Many people at home and abroad are expressing views on Scotland's future, and all contributions are welcome, including Mr Murdoch's.
"We believe that independence will be good for Scotland and good for England - a new relationship of equality between our two nations, with the Queen as our shared head of state."
Last year News Corporation closed its successful Sunday newspaper, the News of the World, over impropriety.
Revelations that staff employed by the newspaper hacked the phones of public and private figures - including murdered teenager Milly Dowler - prompted the closure of the 168-year-old publication.
In addition, 10 current and former senior staff at The Sun have been arrested since November in connection with alleged corrupt payments to public officials.
However, Mr Murdoch has now announced he will launch the Sun on Sunday tabloid this week.
Scottish Liberal Democrat leader Willie Rennie MSP said: "After Rupert Murdoch's crisis at News Corporation, it's the endorsement that every politician dreads.
"We need more than eight words from a troubled media tycoon to convince us that we should separate from the UK family."