MSPs are given simulator babies for childcare debate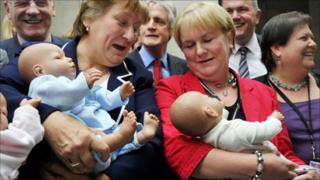 MSPs tried out simulator babies, ahead of a Scottish Parliament debate about affordable childcare.
Save the Children instigated the discussion, which was sponsored by MSP Jamie Hepburn.
The charity said the robotic dolls, which cry and fill their nappies, aim to show politicians that taking a child to work is not a feasible option.
It added that average childcare costs in Scotland are more than half of average part-time weekly earnings.
A recent survey by Save the Children and Daycare Trust suggested parents on all incomes said that they could not afford not to work, but struggled to pay for childcare.
It went on to claim that a quarter of parents in severe poverty have given up work and a third have turned down a job, mainly because of high childcare costs.
The Holyrood debate on childcare costs took place in the chamber at 17:05 and ran for about an hour. It was broadcast on the BBC's Democracy Live website.