100 years of unemployment benefit in Scotland
Jobseekers allowance, unemployment benefit, on the dole, life on the broo; whatever you might call it, for many of us it is almost a rite of passage.
If we haven't claimed it ourselves we almost all know someone who has. So when I was given the opportunity to make a film marking the 100 year anniversary of this iconic benefit it would be looking at the very fabric of British society.
Something that stood out during the making of this programme was how much and how little has changed during the 100 years since unemployment benefit was first introduced. That sounds contradictory, so let me explain.
Unemployment benefit first came into being with the introduction of national insurance and was meant to cover jobs like shipbuilding with highs and lows in work.
At first there was one benefit. It was contribution-based so was in effect 'earned entitlement'. Workers despised the idea of a handout. That sense of pride runs throughout the century.
During the depression years of the 1930s workers couldn't pay contributions, so other benefits were introduced - along with the despised means test.
Jean Melvin recalled accompanying her mother and the sheer humiliation of the process. She had to pawn anything not deemed essential before even being considered for money.
Jean described it as desperate, essentially begging - all through no fault of her own.
Jim Kane was working during the 1930s, so if he lived at home the means test meant his earnings would get deducted from his father's unemployment benefit. So he, along with many others, pretended to live in neighbours' flats.
When the means test inspectors called there were near comic strip capers as men along the street ran in and out of doors just in time to pick up a paper and sit by someone else's fire!
Making ends meet has been a continuous theme of a century of life on the broo.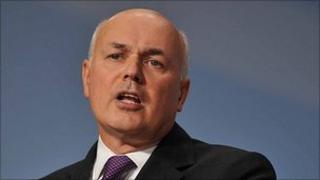 Sixty years after the means test, Mark Lyken was trying to make his meagre benefits go further in Dundee.
An electrician friend taught him a trick to reverse the electricity meter using a Scalextric set but unfortunately he got carried away and had to spend three days with all the lights and oven on full blast and the windows wide open.
What also stood out was the trauma many go through on losing a job, and the difficulties they encounter - both financial and psychological - if they're unemployed for any time.
No-one I spoke to liked being unemployed - quite the opposite, in fact. People want to work, it's a key part of their self-worth.
The truth is that benefits are minimal and despite the newspaper headlines about "benefits cheats", only 1% are obtained fraudulently. As much is lost through administrative mistakes.
What hasn't stayed the same is the benefits themselves. They've been continuously added to and reformed, each time with the promise to simplify and each time achieving exactly the opposite.
Indeed, the system is now so complex that even experts in the field told me they struggle to understand it.
Again, this looks set to change. Work and pensions secretary Iain Duncan Smith is about to announce that he'll replace today's multiplicity of benefits with one, the universal credit.
No doubt it'll be mired in as much controversy and reforming zeal as the first, a century ago.
Plus ça change, plus c'est la même chose.
BBC Scotland Investigates: 100 Years On The Broo will be broadcast on BBC One Scotland on Wednesday 7 September at 22:45 and repeated on BBC Two Scotland on Saturday 10 September at 19:00.