Green bus fleet launched in Edinburgh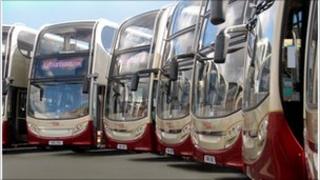 A new fleet of low carbon buses has been unveiled in Edinburgh by Transport Minister Keith Brown.
The minister said the 15 hybrid buses would produce 30% less carbon emissions than an equivalent diesel bus.
The buses, to be operated by Lothian Buses, have been partially funded by the Scottish Government's Green Bus Fund.
Sustainable transport lobby group Transform Scotland said all new buses in Scotland should be low-emission.
Mr Brown said: "The launch of this fleet, and others like it, will further reduce transport emissions and help Scotland take another step towards a low carbon economy, as well as taking us closer to meeting Scotland's world-leading targets to decarbonise almost all road transport by 2050."
Transform Scotland spokesperson Calum McCallum said the new hybrid buses would reduce emissions but progress was "too slow".
He said the Scottish Greener Bus Fund would lead to only 48 new low-emission buses out of the more than 4,000 currently on the roads.
Mr McCallum said: ''If the government wants to demonstrate that it is taking emissions reduction seriously then it should commit to ensuring every new bus bought in Scotland is low emission.
'This would not only make a serious dent in Scotland's climate emissions but, given that the UK's leading builder of hybrid buses is a Scottish company, it would also provide employment for Scottish workers.''
The buses are made by Alexander Dennis Ltd.
They can be powered by electrical energy stored in batteries, which are re-charged using 'regenerative braking'.
The new hybrid fleet will run on Edinburgh's Service 10, from Western Harbour to Torphin.