Inefficiencies 'cost Scottish courts £56m'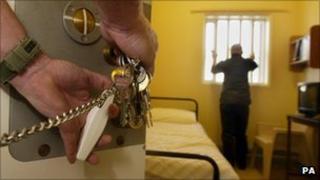 Inefficiencies cost the Scottish courts system £56m a year and put some elements of justice at risk, a spending watchdog has warned.
Audit Scotland also found more than two-thirds of criminals sent to jail had five or more previous convictions.
The Scottish government said reducing reoffending was a priority and that recent figures showed reconviction rates were the lowest in a decade.
But opposition parties insisted more had to be done to make prison work.
The Audit Scotland report Overview of Scotland's Criminal Justice System examined court and prison proceedings between 2009 and 2010.
The report acknowledges improvements in recent years, but highlighted three significant areas where money was being wasted:
£10m on court cases delayed because prosecutors or defence lawyers were not prepared
£30m costs when prosecutors decided not to proceed with cases at a late stage of the court process
£16m spent covering for officers due to give evidence, when as few as 10% actually did so.
Audit Scotland also found the system hampered by examples of poor data sharing, which relied heavily on inefficient paper transactions.
The report stated: "This results in more costly processes and duplication of effort as files are photocopied and couriered around the country.
"When combined with poor sharing of information, this incompatibility creates further inefficiencies."
'Unnecessary costs'
Robert Black, Auditor General for Scotland, said: "Despite improvements, there is still a significant amount of inefficiency in the system which results in delays, repeated processes and unnecessary costs.
"Much of this can be avoided and money could be saved. All the different bodies need to continue to work together to further improve the processes for the benefit of everyone involved."
The report also showed that in 2009/10 most of the 9,372 people sent to jail had previous convictions.
A total of 51% (4,750) had five to 20 previous convictions, 11% (1,014) had 21 to 30 previous convictions and 7% (674) had more than 30 previous convictions.
Almost half of those jailed committed further offences within two years - the cost to the criminal justice system of a prisoner who reoffended after release was £80,000.
But the report said supporting just one offender back into employment could save almost £1m in five years.
Justice Secretary Kenny MacAskill said: "This report recognises that good progress has been made and while I welcome that, I am clear that our work continues to build a stronger and more efficient criminal justice system to deal with offenders and better support victims of crime."
Mr MacAskill added: "Reducing reoffending is a priority for this government and official statistics published only last week - and after the Audit Scotland work was carried out - show that the two-year reconviction rate in Scotland has dropped to its lowest level in 11 years."
On delays and costs, the justice secretary told BBC Radio Scotland's Good Morning Scotland programme: "We can't have people put through the trauma of turning up for a court case that doesn't take place on a routine basis and we can't have police officers time wasted in court when they should be out in our communities.
"What we've got to do is to work together to iron out the inefficiencies, to make sure that departments and indeed those on either side of a prosecution communicate with each other, that the judges and the sheriffs are prepared."
Repeat offenders
Scottish Labour justice spokeswoman Johann Lamont said the system was in danger of moving in the wrong direction.
She said: "The warning over the reoffending rate is particularly alarming and shows we need to see much more effective strategies to make prison work."
Scottish Conservative justice spokesman John Lamont said more had to be done to rehabilitate prisoners.
He said: "It is little wonder that those going to jail often reoffend on release.
"Their first jail sentence is all too often after they have already become repeat offenders and been given community sentences or fines."