Prof Brian Cox hits out at BBC critics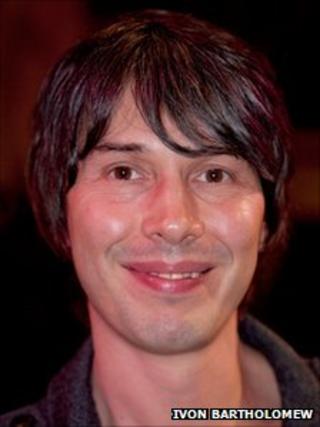 TV physicist Prof Brian Cox has vigorously defended the BBC while speaking at the Edinburgh International Television Festival.
Prof Cox said the BBC had put science centre stage and had been rewarded with high ratings and huge interest.
The Wonders of the Universe presenter said public service broadcasting had a "very important" role to play in changing the direction of society.
He said it was the "British disease" to damage successful institutions.
A recent boom in maths and sciences at A-level has been attributed in some quarters to the "Brian Cox effect".
The academic turned presenter said TV programmes had probably had some contribution to the rise in the interest in science.
He cited his own series, Wonders of the Solar System and Wonders of the Universe, both made for the BBC, as well as those by Jim Al-Khalili and Adam Rutherford.
Prof Cox said: "If they have changed how kids think about science that's an effect of national importance.
He added: "There's a shift now and I'd contend that part of that is to do with the BBC's commitment to science broadcasting."
The presenter, who is an academic at the University of Manchester, praised the BBC for taking a gamble on him in 2007 and giving a professor a presenting role rather than a celebrity.
He said it sent out a positive message.
"The reason I've been able to make programmes is because I've got a degree and a PhD," he said.
"There was a period of getting celebrities to do science programmes, but now its academics doing it.
"There's a conscious decision to turn academics into presenters and celebrities.
"It is the opposite of the X-factor effect, saying if you want to be on TV now you need to be a scientist or historian."
Two years ago James Murdoch made the keynote MacTaggart lecture at the festival, describing the BBC's size and ambitions as "chilling" and accusing it of mounting a "land grab" in a beleaguered media market.
During his alternative MacTaggart talk, Prof Cox said: "One of the things that surprises me about the debate about the BBC, here is an institution that is clearly a big global brand, a powerful global brand, recognised as the best in the world in many areas and what the British disease is is to even consider damaging that institution."