Sold and The Wheel win Amnesty Freedom award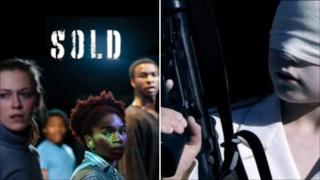 An Edinburgh Fringe award given to an outstanding play carrying a human rights message has joint winners for the first time.
The Amnesty International Freedom of Expression Award was given to Sold, directed by Catherine Alexander and The Wheel, directed by Vicky Featherstone.
The judges of the award, which has been running for 10 years, considered a record 92 entries.
Losing finalist Mark Thomas was the first comedian ever to be shortlisted.
Neil Cooper, one of the judging panel, said all the works were nominated "not because they were saying something that mattered but because they were producing a work of art about something that mattered".
The judges described The Wheel as "a complex and epic story of how children can be corrupted by the ravages of war".
Accepting the award, the play's writer Zinnie Harris said: "As a playwright I am interested in how we in the West reconcile our comfy lives when it is so grim for so many people around the world."
She joked that her friends had begged her to write a comedy.
But Ms Harris said: "Too many people are in too much distress. I feel a responsibility to keep looking at that."
Sold was said by the judges to be an "ambitious, fast-moving show which combines a strong overview of the issue of slavery in human society".
It was described as a "memorable piece of agitprop drama which leaves us in no doubt that despite the increasing exposure of human trafficking in recent years, and widespread political debate on the issue, it is a problem that is not going away".
Mark Thomas's Extreme Rambling (Walking the Wall) and Release, a piece of physical theatre about prisoners in the months after they are let out of jail, missed out on the award.
Amnesty International Scotland director John Watson said the Edinburgh Fringe was a "riotous celebration of freedom of expression".
He said he was heartened to see that the "consideration of human rights and what is right and wrong is alive and well at the Fringe".