Demand for venison outstrips supply in Scotland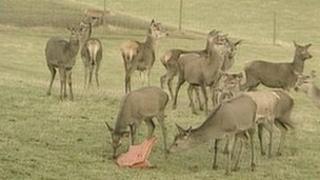 Scotland cannot produce enough venison to meet soaring demand, according to the Scottish Venison Partnership (SVP).
The SVP said that sales of venison had risen more than 30% in three years, from £32m to £43m a year.
But Scotland is now having to import venison meat from New Zealand as demand outstrips supply.
The partnership has warned that if the situation does not change, Scotland will lose out as the lucrative venison market continues to grow.
The umbrella group has argued that 20 times as many deer farms need to be established in Scotland.
Stephen Gibbs from the SVP said that more estates must be persuaded to kill roe as well as red deer now that numbers in the wild have stabilised because of a successful cull programme.
He said: "We have got this awful problem having created a demand, as restaurants love venison.
"We have to find ways of meeting that demand and we have to make the most of the Roe deer industry, which is very fragmented and we need to get that sorted."
Mr Gibbs added: "The second thing to think about is deer farming - there are very few deer farms.
"The farms do a great job but they are probably only producing 50 tonnes of venison a year and we need to make much more than that."
John Fletcher and his wife Nicola from Reedihill farm near Auchtermuchty in Fife, have farmed red deer for more than 40 years.
Mr Fletcher said that seeing the venison market grow had been very satisfying.
He said: "It is gratifying as venison is such a lean wonderful meat, it is exactly what Scotland needs to eat."
Mrs Fletcher said: "In the last few years there has been much more wholesale demand as opposed to just the retail people coming to the shop and the farmers market and the supermarkets are interested in a bigger way than they ever have been."