It's not easy being green for Edinburgh's festivals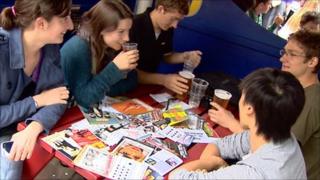 The Edinburgh festivals generate a lot of rubbish.
That is not a comment on the quality of the performances but a statement about the amount of paper and other waste which is produced by thousands of shows at hundreds of temporary venues.
The environmental impact also includes all the carbon dioxide produced by the generators required to drive forward this massive event.
For the Fringe and Edinburgh's other festivals, it is not easy being green.
However, the festivals have got together in an attempt to find a way to reduce their impact.
The Edinburgh International Book Festival is leading the way at its Charlotte Square Gardens site.
The entire venue is temporary, consisting of a series of tents which are constructed in the weeks before it opens.
Andrew Coulton, the festival's administrative director, said this made being environmentally sustainable "phenomenally difficult".
But he said they had already registered some major successes.
Last year the book festival reduced its energy bill by 46%, simply by changing the way it generated and used power.
This year it has introduced compostable food packaging in all its catering outlets.
The cups, plates, knives, forks and sandwich packaging are all made from organic material which is taken to a site in West Lothian for composting.
Green options
"It all breaks down in about 12 weeks and is used for growing vegetables," Mr Coulton said.
He said there was an increasing demand from audiences and from performers for the festivals to consider green options.
Mr Coulton added: "We are also keen to show people that if festivals can be environmentally friendly, they can too.
"It is a fantastic opportunity to show people how easy it is to be environmentally conscious when they are out of their home or their day-to-day routine."
Mr Coulton is chairing a Festivals Edinburgh initiative aimed at encouraging all venues to consider green options.
One of the pilot projects is being run at the Pleasance, which has more than 20 performance spaces, ranging in size from 50 seats to almost 800.
More than 500,000 people are expected to visit the Pleasance over the three-weeks of the Fringe, with many spending time in the venue's numerous bars.
Anthony Alderson, director of the Pleasance, said he had brought in a team of consultants to advise the venue on how it could reduce its carbon footprint.
It will be looking at reducing energy costs and the amount of waste generated, as well as seeing what else they can do differently to improve their environmental impact.
However, there is one massive area which is going to prove very hard to tackle.
Out on the Royal Mile every day there are hundreds of Fringe performers handing out leaflets promoting their shows.
They insist that for small-scale productions, which cannot afford the billboard advertising of the big venues, this is the only way to make contact with the audience and get them to be remembered.
Bins are provided for the flyers and a large number are recycled but Mr Alderson said "there is staggering amount of paper".
"We've developed an app for smartphones and more and more people are using mobile technology," he said.
"It won't be long before we are selling tickets on mobile phones.
"Maybe there is a digital route but it is going to take time and investment."