How to find a great Edinburgh Fringe show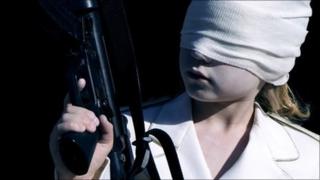 The common greeting during festival season in Edinburgh is not "how are you?" but "what have you seen that was good?".
Whether veteran critics or dipping your toe for the first time, it is still the best way to find a worthwhile show.
Even after 14 years of covering the festivals, I still get it spectacularly wrong (ask my husband about the modern dance show which involved a barefoot dancer intoning Y, Y, Y for 30 long minutes).
So here is my Fringe guide to finding a good show among the 2,542 out there this August:
Listen to personal recommendations
No matter how glossy the leaflet, how enthusiastic the actor on the Royal Mile, nothing beats actually being there.
Most friends will tell it as it is but beware of anyone closely related to the performers - they may be obliged to lie about how good it really is.
Hope My Heart Goes First was one of the early recommendations I heard, along with Monster in the Hall, The Wheel and The Strange Undoing of Prudencia Hart (both National Theatre of Scotland offerings).
That last one offers a heady mix of ceilidh and Kylie as well as a free dram in the interval - what's not to love?
The downside of word of mouth is that it spreads fast, and tickets for most of those shows are few and far between.
Beware of distant connections
Links to performers make the recommendation less than objective - flatmates owed a favour, siblings straight from drama school, that kind of thing.
A loose acquaintance suggested Bang Bang Circus as a good show for my visiting family.
Turns out she had not seen the show, which was steeply priced and somewhat disappointing.
It included a steady stream of street performers, who we could have seen on the Royal Mile for a few quid, and at one stage a stripping hula hoop girl.
It was perhaps more suitable for late night cabaret than afternoon family entertainment.
The six and seven-year-old boys in the party were mildly amused.
The rest of us felt we did not get much bang for our bucks in this circus.
Pick something you know
A favourite film or book turned into a stage show is always a good shout.
We saw a lovely version of Sylvain Chomet's animated film Belleville Rendezvous at Bedlam Theatre.
Lovingly brought to life using everything from puppets and wheel trims to suitcases and torches.
Not to mention a live jazz band on stage throughout.
Delivered with a real joie de vivre, it turned out to be one of the gems of my festival.
Picking someone you know, is not always so successful
It is always a huge pressure to be as good onstage as you are on-screen but Paul Daniels manages it.
His show at Assembly is delivered in a lecture theatre and the show itself is a short and snappy rundown of the history of magic.
His self deprecating banter is fun, the tricks are genuinely breathtaking, even if the biggest cheer of the show is reserved for that other magical institution, the Lovely Debbie McGee.
Take a chance on something new
For all the recommendations, it is nice to be first. So take a gamble on something.
My son encountered a bunch of performers dressed as pirates on the Royal Mile and decided their version of Peter Pan at Surgeons' Hall was the must-see of the festival.
The show was earnest but imaginative - with a young enthusiastic cast.
At £5 and 55 minutes, it was certainly worth the effort and for one six-year-old boy, clutching a plastic cutlass, one of the highlights of his festival.
Much of what happens on the Fringe is strange and erratic.
A last minute tip-off, a glimpse of something on the Royal Mile, or the mere practicality that a show happens just at the point when you are free to see it.
Sometimes that's when you see the best shows. Just make sure you tell all your friends afterwards.