Medication given illegally, mental health watchdog says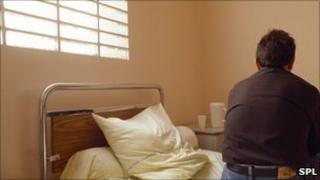 More than one in 10 people detained in Scottish mental health wards for two months or more are being given medication illegally, according to the Mental Welfare Commission.
The mental health watchdog said the rights of the patient were not being respected when prescribing sedatives.
It has carried out its largest ever survey of people who are sectioned or given compulsory treatment.
It found that the law was being breached in more than 10% of cases.
More than 4,000 people are detained in mental health care each year in Scotland.
The Mental Health Act of 2003 in Scotland says that people who are undergoing compulsory treatment for more than two months must consent to further medication, or medical staff must get a second opinion before they can administer anything against the patients wishes.
Dr Donald Lyons, chief executive of the Mental Welfare Commission (MWC), said: "People who are detained under the mental health act, or subject to community treatment, must be confident that the safeguards that the law has put in place are being operated for their benefit."
The commission found those in elderly care mental health wards were at particular risk of being given medication illegally.
In many cases the correct forms had not been completed, or did not include the medication actually being used.
The commission said it also had "grave doubts" that some of the people who had given "consent" for treatment were actually capable of doing so.
More than 4,000 people in Scotland are subject to compulsory treatment orders every year.
The MWC has recommended that hospital pharmacists keep a closer eye on prescribing, and that staff get regular training sessions.
Training course
A Scottish government spokesman said: "We welcome this report from the MWC which provides a valuable overview of compliance with Part 16 of the Mental Health (Care and Treatment) (Scotland) Act 2003.
"This report provides a timely reminder that safeguards must be followed to ensure that compulsory treatment under the act is carried out appropriately and lawfully."
The spokesman added: "In relation to training for approved medical practitioners, they are required under a 2005 direction issued by Scottish ministers to meet certain requirements.
"This includes completing a training course that covers matters such as completing medical forms, including those relating to Part 16 of the Act.
"This training is currently provided by NHS Boards and we will work closely with them to ensure it emphasises the importance of completing these forms fully and correctly."