Major rise in thefts from Scottish farms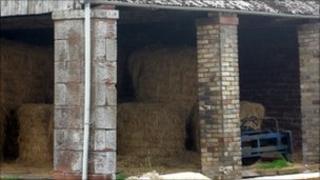 A rise of 67% in "agri-crime" in Scotland over the past two years has been reported by a leading insurance company.
NFU Mutual said that thefts from farms cost £1.4m in 2010.
The most popular items stolen were small power tools such as chainsaws, electric drills and lawnmowers.
The insurance company's figures indicated that most of the thefts took place after midnight, with farm outbuildings being targeted.
The NFU Mutual Rural Crime Survey was based on reports from its network of branch offices in rural towns and villages.
In addition to small tools, quad bikes and fuel were regularly reported as stolen from farms.
Rural criminals
The insurance company's branch representatives indicated that the difficulty of policing sparsely populated areas was a major factor in the increasing problem of theft.
They also identified relaxed attitudes on the part of farmers towards security measures.
Robin Gawn, NFU Mutual's agent in Perth, said: "People living and working in rural areas of Scotland need to be vigilant and keep working with police and local communities to help fight rural crime.
"It is all about taking small steps to make life much harder for rural criminals.
"Making outbuildings more secure is an effective deterrent."