Met Office warn of persistent rain in Scotland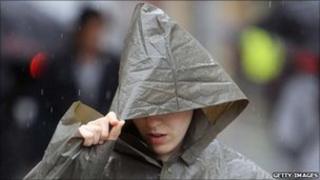 A warning has been issued by the Met Office of persistent and often heavy rain across much of Scotland.
The amber alert indicated that accumulations of 25 to 35mm are expected, with 60mm locally.
The severe weather warning suggested that the rain would spread north, eventually affecting most of eastern Scotland.
The Met Office said that there was a small risk of up to 100mm of rain in parts of the southeast.
The rain was forecast to continue for much of Sunday.
The Scottish Environment Protection Agency (Sepa) has issued a flood alert for much of eastern Scotland, from the Scottish Borders to Banffshire, and for the central belt, including Glasgow and Edinburgh.