John Malkovich hands out flyers at Edinburgh Fringe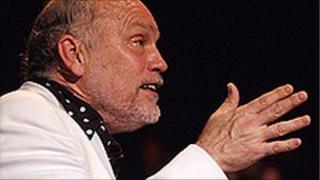 Hollywood film star John Malkovich has been handing out flyers for his Edinburgh Fringe show.
The actor was in the Scottish capital to support his "old friend" Julian Sands, who Malkovich is directing in A Celebration of Harold Pinter.
The Oscar-nominated star of more than 70 films said "it was fun" to hand out leaflets on the Royal Mile.
Malkovich added that some people would not take his flyers: "You always get turned away. That's your lot in life."
The 57-year-old actor and director, whose screen credits include Dangerous Liaisons and In the Line of Fire, met British actor Sands when they made the Killing Fields in the early 1980s.
Malkovich said: "Julian is one of my oldest friends. We've been fantastic friends for 28 years and even if I wasn't involved I would have just come to see it."
Pinter, whose plays include the The Homecoming, The Birthday Party and The Caretaker, died almost three years ago.
Before his death he had planned to perform a recital of his poems and political prose.
Due to illness he pulled out of the project and asked Sands to take his place.
Malkovich was a great fan of Pinter's work and became a friend of the famous playwright after they met in the 1980s.
He said: "I think he was a fantastic playwright and one of the funniest in the English language. Really hilarious.
"He was very charming and very funny. He was a very unreadable figure. You never really knew what he would do or say."
Malkovich, who has directed dozens of Pinter plays, many with the Chicago theatre company Steppenwolf, suggested that Sands made the poetry recital into a theatre piece.
Sands and Malkovich have been working on the project for a year.
Their producer decided to take it to the Pleasance during the Fringe to get a good run before a nationwide tour.
Malkovich said: "I think this is the perfect size and the perfect length of time for Julian to get a good run at it."
The actor, who has directed plays all around the world, said he had only been to Edinburgh once before.
He worked on a film called Mary Reilly, with Julia Roberts, in the mid-90s.
As he rushed off to Finland for an opera in which he is performing he said he may return to Edinburgh.
"I don't get many long stays in places," he said.