Strong language peppers debate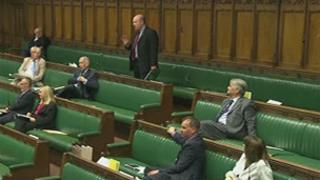 If you want to have a glance yourself, you can catch the exchanges through the BBC's Democracy Live service.
I am talking about the moment in the Commons when Labour MP Ian Davidson chose to attack the SNP for "narrow, neo-fascism".
Mr Davidson seemed to feel he was being heckled unfairly by MPs from the SNP benches. He chose to characterise such behaviour as neo-fascist.
The SNP's Stewart Hosie immediately raised a point of order, condemning the comment as "absurd and offensive and wrong."
Undeterred, Mr Davidson repeated his view that the Nationalists were guilty of neo-fascism in "attempting to shout down speakers" with whom they disagreed.
As I say, have a glance at the exchanges for yourselves. They come right at the end of the Third Reading debate on the Scotland Bill, just before 11pm last night.
For myself, I do not believe that all that many people would characterise the exchanges as unwarranted heckling. Robust debate, perhaps, but that is very far from unknown in the Commons.
'Sour side'
Either way, the Nationalists regard the particular choice of criticism as utterly unacceptable.
Firstly, Angus Robertson, the party's leader in the Commons, demanded an apology - then asked the Speaker to clarify what might be done about Mr Davidson's chairmanship of the Scottish Select Committee.
The Speaker, John Bercow, said that was a matter, in the first instance, for the committee itself.
Then First Minister Alex Salmond piled in to suggest that Mr Davidson was suffering after-effects from Labour's Holyrood defeat. He too urged an apology.
And then Nationalist MSP Stewart Maxwell added his comments, suggesting that they showed the "sour side of Scottish Labour."
No word, yet, from Mr Davidson.