Scots borrowing powers brought forward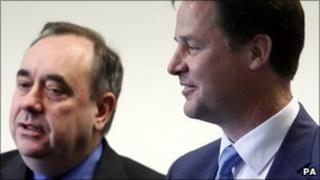 The Scottish government will be allowed to borrow about £200m this year to pay for big projects, like the new Forth road bridge.
The move was announced by Deputy Prime Minister Nick Clegg as he met Scottish First Minister Alex Salmond.
Holyrood was due to be given borrowing powers in two years time and the announcement gives ministers access to some of that cash this year.
Mr Salmond welcomed the move, but wants progress on other demands for powers.
The new powers, as part of the Scotland Bill to increase Holyrood's responsibilities, had not been expected to kick in until 2013.
The Scottish government said the proposals to devolve borrowing powers - worth £2.2bn - did not go far enough, and has argued for at least £5bn, taking into account predictions about future spending and interest rates.
Scottish Labour supports the case for raising the borrowing, while the Scottish Tories warned borrowing was not a "cost-free option" and needed to be limited.
After the meeting in Edinburgh, Mr Clegg said: "We want to do additional things that will help right now.
"That's why I indicated today that we will not just wait for the full borrowing powers to come into effect in several years' time, but use that prospect to access some money now - the details we'll publish in the coming days - so we can for instance get going with the new Forth crossing project, which creates jobs now, creates a sense of confidence, creates a sense of optimism.
"At the same time of course, the first minister set out to me the various suggestions he's got, changes that he wants to make to the Scotland Bill."
Independence referendum
Mr Salmond, in the wake of the SNP's landslide election victory, wants greater Scottish powers, including control over corporation tax, the marine seabed, alcohol duties, broadcasting and a greater say in European affairs.
The first minister said the meeting had been constructive.
"The key point on the Scotland Bill is they've agreed to seriously consider the six proposals that the Scottish government, and the Scottish Parliament of course, are bringing forward," he said.
Mr Salmond said the prospect of an independence referendum was not discussed during the meeting, which also involved Scottish Secretary Michael Moore.
Earlier this week, Mr Moore said a second vote would be needed if the SNP won its referendum on Scottish independence.
Mr Salmond said: "It never cropped up. I think the proposal, as I read, for two referenda is non-operational."
Mr Clegg did not endorse his Liberal Democrat colleague's views, but said Mr Moore had given an accurate description of the "arcane" legal and constitutional framework surrounding the issue.
He added: "Let's concentrate on the substance of that key choice rather than the means by which that choice will finally be put to people some time in the future."