Glasgow Council suggests half pay plan for new teachers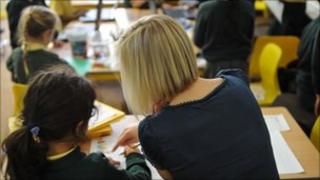 Union bosses are urging Scotland's largest education authority to clarify its call for all probationer teachers to be put on half pay.
They currently receive £21,400 in their probationer year but nothing in their final year of teacher training.
Glasgow City Council said its plan would see that salary split, with pay of £10,700 in both the last year of study and the first year of teaching.
The Education Institute of Scotland said the country-wide plan was a worry.
It has been submitted to the Scottish government's inquiry into the profession's pay and conditions.
The EIS, which begins its annual conference later, said that if the suggestion was adopted, low pay would be an added burden for new teachers who may have student debts and significant problems finding work.
The union's Hugh Donnelly said: "Any proposal that suggests teachers' wages should be halved in their first two years would obviously be of great concern.
"New emerging teachers face a whole number of problems trying to secure full-time jobs and enter the profession already burdened with debt.
"This would be an added burden for them."
The council's submission, which has been seen by BBC Scotland, said: "The one year probationer experiences needs to be reviewed in the light of Donaldson [teacher education reforms].
"Consideration should be given to making this a two year experience for all post-graduates, paid at 0.5 full time salary each year."
A spokesperson for the council said what was implied was that teachers should receive half of their probationer salary while in their last year at teacher training institutions, when they are currently unpaid.
They would then receive the other half while in their probationer period, which currently lasts a year with a salary of £21,400. The following year it rises to £25,700.
At the last count, there were almost 3,000 probationer teachers in Scotland.
The Scottish Government has commissioned Professor Gerry McCormac of Stirling University to review teachers' pay and conditions.
It is now more than a decade since staff saw changes under the landmark McCrone deal.
The deadline for submissions to the McCormac review was Easter and a report is expected in September.
If the Glasgow Council proposal is adopted by the review, then it would apply to all probationer teachers in Scotland.
The Scottish government will then decide which recommendations it wishes to adopt.
Last month the BBC obtained a copy of a confidential submission from Cosla, the umbrella body for local authorities.
It proposed shortening teachers' holidays, lifting the cap on their hours and requiring them to undertake further training.