Scottish election: Parties focus on young and economy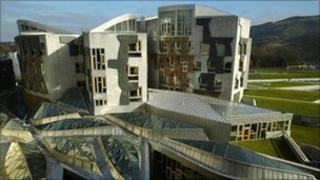 Scotland's main political parties have been focussing on young people and the economy, as campaigning ahead of the 5 May Scottish election continued.
The SNP called for planned cuts at Glasgow University to be shelved, saying it was committed to higher education funding.
Labour said it would offer more apprenticeships, while the Lib Dems outlined their "digital economy" plan.
The Tories outlined its record on getting policies enacted at Holyrood.
But the party's official election campaign launch was overshadowed by news that a third party candidate had stood down.
Party leader Annabel Goldie denied the campaign had collapsed, as she sought to concentrate on the Conservatives' achievements at Holyrood in the last four years.
She claimed credit for the SNP minority government's implementation of policies, including boosting police officer numbers by 1,000, cuts in rates for thousands of small businesses and a new drugs strategy.
Miss Goldie, said: "I am realistic about the present but I am optimistic about Scotland's future.
"That is why our manifesto will be credible and costed. It is straightforward and faces up to reality - but it also brings forward practical policies, charts a way forward for Scotland and offers hope."
Protesters from Glasgow group Citizens United Against Cuts to Public Services also interrupted the launch of the Tories' election campaign, as they hit out at the UK government's deficit-reducing spending cuts.
SNP candidate and Scottish education secretary Mike Russell met the president of Glasgow's Student Representative Council, Tommy Gore, to discuss planned cuts at Glasgow University.
Police were called to the campus last week after students staged a sit-in over plans to drop and merge courses, under a plan to save £20m by 2014.
Mr Russell called for the proposals to be put on hold pending the outcome of the election, saying the SNP had pledged to close the funding gap after coming out against the re-introduction of student tuition fees at Scottish universities.
Apprenticeship 'guarantee'
He said: "The proposed cuts at Glasgow University are based on an outmoded estimate concerning the funding available to the sector over the next few years.
"The SNP is fully and publicly committed to increased funding - the court's plans for cuts pre-dated the final publication of conclusive figures that allowed that commitment to be made, and therefore have been overtaken by events."
Scottish Labour leader Iain Gray met apprentices and staff at the Cunninghame Housing Association, in Ardrossan, reaffirming Labour's commitment to "guarantee an apprenticeship to all suitably qualified 16-18 year olds who want one", from 2013.
He said: "I know how important it is to give our young people the opportunity to get a chance in the workplace and apprenticeships offer that first rung on the ladder of success.
"That is why I will ensure that if elected we will guarantee an apprenticeship for all suitably qualified 16-18 year olds who want one.
"The Nationalists talk about apprenticeships but Scotland needs real action to tackle youth unemployment, not half measures and that is why Labour's apprenticeship guarantee is so important."
Meanwhile, the Liberal Democrats pledged to make Scotland the "most connected country in Europe", to help business and the tourist industry.
Scottish party leader Tavish Scott was visiting a tour company, by Tomnahurich Bridge, in Inverness, which he said needed to be "better served by high-speed broadband."
Pledging to better invest in super-fast broadband across the Highlands and across Scotland, he said: "Broadband can turn the 'tele-croft' from political rhetoric to economic reality.
"Making Scotland the most digitally connected region in Europe is an investment in helping schools, hospitals and public services provide better services for local people."