Scottish schools 'should have more control' on budgets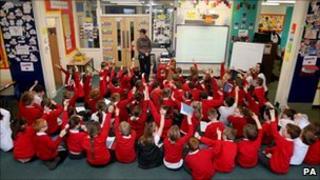 Head teachers should have more control over their funds, a report commissioned by the Scottish government has recommended.
David Cameron, a former council director of education, was reviewing guidance on devolved school management.
His report recommends fewer spending decisions at local authority level and clusters of schools being able to pool their budgets.
The Scottish government said it was considering the findings.
Mr Cameron's report indicates that groups of schools - such as primary and secondary schools which share a catchment area - could jointly manage budgets to help deliver the Curriculum for Excellence.
Under the new curriculum, teachers and pupils have more flexibility in what and how they learn.
The report's recommendations include:
• More autonomy for schools to manage budgets which are central to fulfilling their role
• Budgets should be expressed as a cash sum
• Schools should receive three-year budgets aligned to improvement plans
• Movement towards budgets which are shared at a "cluster level"
Education Secretary Mike Russell said: "Curriculum for Excellence offers schools the opportunity to work much more closely together to offer new and improved learning experiences for their pupils.
"Teachers can work outside traditional school-level barriers to offer pupils broader and deeper learning - for example a research project that involves pupils in late primary working with those in early secondary to source information and develop team-working and presentation skills."
Mr Cameron said: "We have very good practice in a number of our local authorities to build on and a great deal of consensus about the direction that we need to move in.
"There is a great opportunity to make a real difference through Curriculum for Excellence and we need to make sure that all schools are enabled to take advantage of that."