Mary's Meals charity 'feeding 500,000 children a day'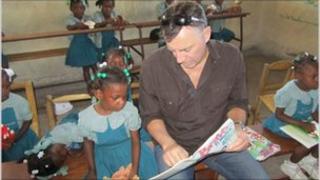 A Scottish charity which provides school meals in 16 of the world's poorest countries has said it now feeds half a million children a day.
Mary's Meals supported a tiny number of Malawian orphans when it began in 2002.
It has expanded worldwide and Dragon's Den star Duncan Bannatyne travelled to Haiti to help mark the milestone.
The entrepreneur, who is a long-term supporter, travelled to Port-au-Prince to see a school reopen which had been destroyed in last year's earthquake.
Mary's Meals was founded by Magnus MacFarlane-Barrow, following an encounter in Malawi with a 14-year-old boy called Edward, whose mother was dying of Aids.
The teenager revealed his dream in life was to have enough food to allow him to attend school.
Mr MacFarlane-Barrow was last month awarded an OBE in recognition of his work in developing the charity.
Mr Bannatyne wanted to see the progress made in Haiti since a 7.0 magnitude earthquake struck just over a year ago.
'Fantastic work'
The quake devastated the Caribbean nation and killed some 250,000 people.
During his visit to the Cite Soleil slum, the Scots businessman attended the opening of a new school, where children will receive a meal, and their first experience of education, next week.
He said: "Mary's Meals is doing fantastic work here.
"They are feeding children in school, so that they will go to school and get an education.
"I remember when I first saw Mary's Meals, they were just starting the feeding programme in Malawi.
"For them to now be feeding 500,000 children, every single day in school, that's phenomenal."
The charity, which has its headquarters in the village of Dalmally in Argyll, has been operating in Haiti since 2006.
But with many of the schools where it worked destroyed, lessons and mealtimes had to be held under tarpaulin and in temporary shelters while rebuilding took place.
Mr MacFarlane-Barrow said: "The poverty in Cite Soleil was appalling even before the earthquake, but our partners' schools represented a safe haven for their pupils, away from the violence and deprivation that was the reality of their lives outside.
"After 12 January, 2010, reopening those schools and restarting school feeding became our absolute priorities."