Mike Russell rejects school closure interference claim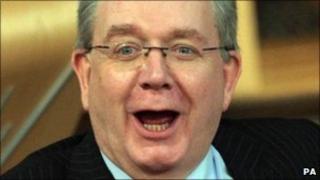 Education secretary Mike Russell has rejected claims he interfered in a school closures programme in Argyll.
The South of Scotland MSP, who hopes to win the Argyll and Bute seat in May's election, accused political opponents of "attempting to smear" him.
He said he was right to meet parents and councillors and acted only in his capacity as an election candidate.
The local council has shelved consultation on the possible closure of up to 25 primary schools in the area.
Labour, the Tories and Lib Dems called on the minister to use his statement to apologise.
But Mr Russell insisted he told local people he could not take a position on closures because of his ministerial job.
He also highlighted the SNP's record on rural school closures, saying the last Scottish government had closed schools whenever a ministerial decision was required.
"Let that fact speak for itself," said Mr Russell, adding: "I for one am glad to be known as a defender of our rural schools, in Argyll and Bute and across Scotland.
"A defender who, I believe, has acted with propriety throughout."
The Argyll school closure consultation was halted after new information emerged which suggested there were inaccuracies in the information on which it was based.
Conservative MSP Elizabeth Smith asked why Mr Russell was "giving direction" to SNP councillors.
Mr Russell said he did not give directions, adding it would have been "extraordinary" if he had not had conversations with party members over the issue as parliamentary candidate.
He said he had given a "full account" of the matter.
Liberal Democrat Margaret Smith said: "I think it is perfectly reasonable to think that parents across Scotland are concerned about what they have heard."
Labour MSP Des McNulty called for details of ministerial and parliamentary resources used to arrange meetings related to the issue.
Mr Russell also used his Holyrood statement to announce the government had overruled plans for school closures in the Western Isles.