Give Jeremy Corbyn time, Tom Watson tells MPs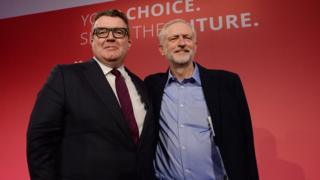 Labour's deputy leader has told MPs to give Jeremy Corbyn "space and time" to set out his stall as party leader.
Tom Watson said there was "bound to be a bit of turbulence" as Mr Corbyn attempted a "political realignment" of the party.
He also dismissed a suggestion from Lib Dem leader Tim Farron that disgruntled Labour MPs could join his party.
Some members of Mr Corbyn's shadow cabinet have said they disagree with him on policy issues.
Shadow justice secretary Lord Falconer set out differences with the new leader on a wide range of policy areas, including defence, foreign affairs, welfare, education and the economy.
Shadow foreign secretary Hilary Benn rejected Mr Corbyn's opposition to the renewal of Trident, while the leader's opposition to military action in Syria is not shared by all of his front bench.
'Respect the mandate'
Speaking on BBC Radio 4's Today programme, Mr Watson - elected as deputy at the same time as Mr Corbyn - said: "I would just say to those MPs that are saying things on the record and off the record, please respect the mandate he has been given."
Mr Corbyn won an overwhelming victory in the leadership contest, but few Labour MPs backed his campaign. He has attempted to include a broad range of opinions in his shadow cabinet, while appointing left-wing ally John McDonnell as shadow chancellor.
Mr Watson added: "It will take time but you will see a change of direction and you will be able to see what Jeremy Corbyn really stands for."
Mr Farron's suggestion of possible defections was dismissed by Mr Watson, who said it "would be like leaving the Beatles to join a Bananarama tribute band".
"I don't see any Labour MPs - serious Labour MPs - who are going to defect to go to Tim Farron's party," he added.