UKIP: Farage walkabout cancelled on safety grounds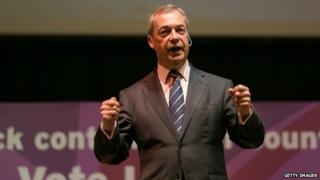 UKIP leader Nigel Farage has cancelled plans for an election walkabout in Swansea city centre on safety grounds.
He had been expected to meet shoppers in the city as part of the party's European election campaign on Wednesday.
Mr Farage said later he had abandoned the event after being told there were "scuffles going on".
There were fewer than 10 Socialist Worker activists protesting at the scene.
Mr Farage went to the Liberty Stadium in the city for a question and answer session, media interviews and a rally.
He told BBC Wales: "To walk into a situation where there are scuffles going on, with an organised, funded group of people who actually want to shut down debate... I don't think that would have been very seemly or would have been a very good thing.
"So I thought discretion today was the better part of valour."
Mr Farage said that although the party had begun as an English political party, it was "growing very quickly" in Wales, "being accepted more and more" and that Wales was "gradually becoming a more Eurosceptic place".
UKIP, he said, had recently increased its number of members in Wales from 1,000 to 1,500.
"The party's evolved, the party's changed - UKIP Wales has put on 50% new members in the past six months," he said.
"We fought the Anglesey by-election to the Welsh assembly last year where, from nowhere, we got a very respectable and good percentage of the vote."
'An earthquake'
UKIP is aiming to get Nathan Gill, who stood for the party in the Anglesey poll, elected as one of the four MEPs for Wales.
The party currently holds one of those four seats, alongside the Conservatives, Labour and Plaid Cymru.
Mr Farage said that if the opinion polls were to be believed, voters in Wales could play their part in causing "an earthquake in British politics in three weeks' time".
"If you agree with us, that our political establishment have given away our country, given away control of our borders and denied us a say on these things, here is your opportunity to get back," Mr Farage said.
"Here is your chance, in a European election on May 22nd, to tell them what you think."
On the question of the billions of pounds of EU aid Wales had received, he said EU policies and "over-regulation" were "de-industrialising Wales and the rest of our nation", closing down industries and making areas eligible for the subsidies.
Earlier on Wednesday Mr Farage said he would not be a candidate in the Newark by-election.
That contest has been prompted by Tuesday's resignation from Parliament of former Tory MP Patrick Mercer over a cash-for-questions scandal.
A list of all candidates and parties standing in the European Parliament elections on Thursday 22, May, is available here.