Black middle class 'drifting away' from Labour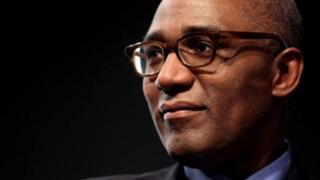 Former equalities watchdog chief Trevor Phillips has suggested upwardly mobile black and Asian families are increasingly turning away from Labour.
Second or third generation immigrants are likely to drop their "reflex" support for Labour as they move from inner-city to suburban areas, he says.
There is also evidence to suggest that smaller parties will benefit from the apparent trend.
His argument appears in an essay for centre-left think tank Demos.
The essay, co-written with University College London geography professor Richard Webber, will be published on Friday as part of Demos's quarterly report.
It draws on a 2013 YouGov survey in which 481 non-white voters were interviewed. The authors acknowledge their findings should be treated as "indicative" because of the small sample size.
Nevertheless, they observe: "In the complex arithmetic of the UK's parliamentary elections, it's not hard to imagine a relatively small shift in the distribution and turnout of minority voters having an amplified impact."
The authors used the voters' postcodes to try to find out whether black and Asian people living in predominantly white neighbourhoods were more likely to vote Conservative than those who lived in "cluster" areas (where ethnic minorities make up 30% or more of the electorate).
'Ready to desert'
"A significant proportion of visible minority electors who vote Labour in cluster areas are ready to desert when they move to white areas," Mr Phillips and Prof Webber conclude.
Their analysis suggests:
Where people from ethnic minorities represent more than 30% of the electorate, 60% of them vote Labour compared with 23% voting Conservative
In areas with a higher proportion of white voters, Labour loses 12% of its share of the vote among ethnic minorities
This only has a marginal benefit for the Conservatives, who receive 23% of ethnic minorities' votes where they represent 30% or more of the electorate, and 24% in areas with a lower proportion of non-white voters
The main beneficiaries are smaller parties, whose share of the vote goes from 10% in areas with more ethnic minority voters to 20% in areas with more white voters
Mr Phillips and Prof Webber foresee these trends "intensifying" as the UK's ethnic minority population grows and relocates from inner-city areas where housing is more expensive.
The pair also suggest that voters from African, Caribbean, Pakistani and Bangladeshi backgrounds were more likely to stick with Labour than Indian and Hindu electors.
'Vital handful of votes'
Conservatives received 16% of ethnic minority votes in the 2010 election, compared with 68% for Labour, according to the Ethnic Minority British Election Study carried out by researchers from Oxford, Manchester and Essex Universities.
That vote share for the Conservatives was an increase on the 2005 election - when the party got 10% of votes cast by ethnic minority voters, according to research by Ipsos Mori.
Mr Phillips and Prof Webber highlight a "high degree of uncertainty" about the outcome of the 2015 election, which they say "invites some re-examination" of the role of ethnicity and culture in voting habits.
Noting that in the event of a hung Parliament in 2015, electoral success or failure could turn on "a vital handful of votes", the authors go on to identify types of constituency where the "cluster effect" could be particularly important.
Ones to watch
Seats with small Conservative majorities and large numbers of Indian voters are described as "vulnerable" to Labour, but "less likely" to change hands because of Labour desertion by upwardly mobile Indian-heritage voters.
These include places such as Hendon and Wolverhampton South West.
Seats with small Conservative majorities and large numbers of upwardly mobile black or Pakistani voters are seen as "more likely" to go to Labour.
These include the Enfield North and Dewsbury constituencies.