UK should raise Myanmar aid to £100m, say MPs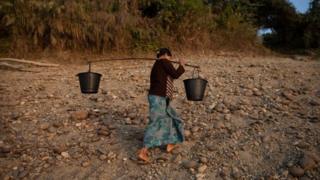 The UK government should raise its annual aid to Myanmar from £60m to £100m, despite concerns over human rights, MPs have recommended.
The International Development Committee said this would help bring about reform in the country, although some critics have said giving aid is "naive".
A "cynical attitude to change" would not improve the quality of rule in Myanmar, the committee added.
The European Union dropped its sanctions against the country in 2013.
This was in recognition of the political reform programme introduced in the south-east Asian country, formerly known as Burma, but significant international concerns remain over its human rights record.
'Standing back'
Many political prisoners have been released and new laws have changed the media and economy of Myanmar.
Yet critics say too little has altered and the army still wields too much power.
The committee said it recognised that groups such as Burma Campaign UK believed the government was "naive in rewarding" Myanmar's leadership.
But it argued that progress would "not happen by standing back, adopting a cynical attitude to change".
It called for the Department for International Development to increase the aid allocation for Myanmar to help fund the peace process, education, and parliamentary strengthening schemes.
The committee's chairman, Liberal Democrat MP Sir Malcolm Bruce, said: "Significant progress has been made... over the last few years.
"While a host of problems remain, a key opportunity exists for UK development programmes to help deliver transformational change. We must seize the moment.
"We therefore support the UK government's approach to support reformers in the Burmese government to raise the country out of poverty, develop the economy and build a society that moves towards democracy.
"Progress will be unpredictable and uneven, but supporting the reform process by working to deliver public services and develop livelihoods offers unprecedented potential."
International Development Minister Alan Duncan said he was pleased the committee supported the government's approach to Myanmar.
"DfID has made significant progress in Burma where we are helping lift people out of poverty, develop the economy and build a fairer, more democratic society that serves all its people well," Mr Duncan said.
"Without doubt, we have an opportunity to deliver further transformational change and we will be working across government to make the most of this.
"We will give full consideration to the IDC's recommendations, while ensuring we deliver value for taxpayers' money in Burma and elsewhere."