Keep £347m emergency fund, councils in England and Wales urge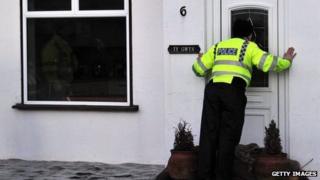 The government must reverse its decision to drop a "crucial" £347m fund to help families affected by emergencies, councils have said.
The Local Government Association (LGA), which represents authorities in England and Wales, said the money helped people faced with homelessness or struggling to afford meals.
It was "extremely disappointing" the fund would not be renewed in 2015.
The government said the fund had been "poorly targeted".
The Local Welfare Assistance Fund was introduced in 2013 to replace the previous system of crisis loans. Each local authority area is allocated money from the £347m total.
The LGA said some of the families in Surrey forced out of their homes during recent flooding had benefited from the fund, gaining assistance with food, clothing, bedding and utility costs.
'Open mind'
Chairman Sir Merrick Cockell said it provided "crucial support to people facing personal crises in their lives".
He added: "By helping people at an early stage and targeting support at where it is needed most, we have been able to give essential support in people's time of need and prevent short-term problems escalating.
"It is extremely disappointing that government has removed the funding for this safety net without first honouring its promise to discuss with councils what the consequence of such a move might be."
Sir Merrick argued that ministers should look at the fund with an "open mind", saying: "Local authorities are working hard to support the most vulnerable in society while managing the biggest cuts in living memory to funding for services.
"For some councils, providing crisis payments to those in need from local service budgets is likely to be a stretch too far."
But a government spokesman said: "Councils will continue to provide support to those in their community who face financial difficulties or who find themselves in unavoidable circumstances.
"In contrast to a centralised grant system that was poorly targeted, councils can now choose how to best to support local welfare needs within their areas - what is right for inner London will not be for rural Cumbria.
"The government continues to provide support to local authorities through general funds as part of the government's commitment to reducing ring-fencing and ending top-down Whitehall control."