Lib Dem leadership seeks backing for EU benefits shift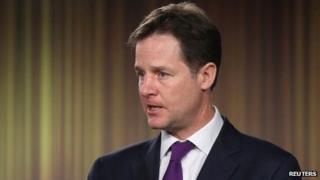 Lib Dem members are being asked to back a plan to extend the period during which unemployed EU migrants are paid benefits by their home state.
Member states are currently responsible for paying unemployment benefits for up to three months to citizens who travel elsewhere in the EU to look for work.
In May 2013, the EU Commission suggested this period could be doubled.
The idea will be debated at the next Lib Dem conference after receiving the backing of the party leadership.
A Lib Dem policy paper entitled Making Migration Work for Britain, which delegates at the Spring conference in March will be asked to approve, argues that the idea would "save UK taxpayers from footing benefit bills for an EEA [European Economic Area] citizen for a further three months than is currently the case".
The paper sets out a number of ideas which could be included in the party's 2015 general election manifesto.
'Sceptical'
It seeks to obtain the party's formal backing for other coalition welfare reforms such as strengthening tests used to determine whether EU migrants are "habitually resident" in the UK for the purposes of receiving benefits.
Writing on the Lib Dem voice website, backbencher Julian Huppert said the proposals would "address head on" public concerns about immigration and welfare.
"We must stand firm against the anti-foreigner tide," he said.
"As Liberal Democrats we vocally recognise the benefits immigration brings to the UK but we also recognise that the public has become increasingly sceptical about immigration control and parliamentary oversight."
The policy paper, written by MP and former minister Andrew Stunell at the request of party leader Nick Clegg, also recommends:
an annual report and vote in Parliament on migration
improved entry and exit checks at borders
plans to double the number of minimum wage checks on firms to stop undercutting of wages and exploitation of workers
discussion with other EU member states on "more effective and appropriate transitional controls" for countries joining the EU in future.
A Lib Dem spokesman said: "Liberal Democrats are committed to building a stronger economy and a fairer society, enabling everyone to get on in life. Part of this is making sure migration works for Britain.
"The Federal Policy Committee has put the paper forward to the Federal Party Conference, and the proposals will be debated and voted on in the usual way, where our members vote to form party policy."
The Commission said in May that a shift to six months would "make it easier for citizens to look for a job in another EU country".
The Lib Dems and their Conservative coalition partners have acted to tighten access to benefits in recent months.
However, David Cameron has said he wants to go further and indicated a future Conservative government would press for limits on laws entitling EU nationals to live and work in other member states.
In contrast, the Lib Dems say their proposals would help "reassure the public that the free movement of labour is the right course for the UK and for their own personal well being".