Nick Clegg says Lib Dem-Labour coalition possible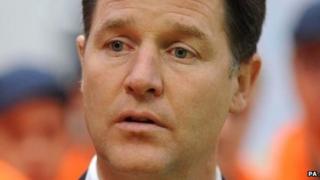 Liberal Democrat leader Nick Clegg has talked openly about the prospect of a coalition with Labour after the next general election.
He told a BBC documentary that Labour had "changed" and was realising it might have to share power with others.
The deputy prime minister also said the Conservatives needed to re-engage with "mainstream" voters.
But Labour leader Ed Miliband said he was not "interested" in discussing the possibility of a coalition.
Mr Clegg's comments came in a BBC Radio 4 programme - Nick Clegg: The Liberal Who Came To Power - to be broadcast on Monday evening.
'Theme tunes'
He said: "I think they've changed. I think there's nothing like the prospect of reality in an election to get politicians to think again and the Labour Party, which is a party unused to sharing power with others, is realising that it might have to."
But he warned that Labour would have to change its attitude to public spending, saying: "There is just no doubt in my mind that if there were a Labour-Liberal Democrat coalition, we the Liberal Democrats would absolutely insist that government would not break the bank."
The Lib Dems have been in government with the Conservatives for almost four years, with the two parties' leaderships becoming more openly critical of each other in recent months.
In his interview, Mr Clegg said: "I think the Conservative Party has changed quite dramatically since we entered into coalition with them.
"They've become much more ideological. They've returned much more to a lot of their familiar theme tunes...
"I think it would be best for everybody if the Conservative Party were to rediscover a talent for actually talking to mainstream voters about mainstream concerns."
It is not the first time Mr Clegg had talked about a possible deal with Labour but his comments could cause tension in the current coalition.
Baroness Williams said Nick Clegg had failed to consult experienced Lib Dems
Speaking on ITV's Daybreak, Mr Miliband would not be drawn on the subject of a possible coalition after the next general election, set for 2015.
He said: "I'm interested in how do we work for for a majority Labour government? How do we change this country? And that's where absolute 100% of my focus and the focus of my party is."
Pushed further about a possible coalition, he said: "What I say is, let's not get into that. Let's get into the people, looking at the options. I want a majority Labour government. That's what I'm going to work for.
"And I don't think the parties, in advance of elections, should be engaging in this. I think what they should be engaging in is how are we going to change the country? What are we offering the country? And that's what I'm interested in."
Senior Lib Dem figures Jeremy Browne and Baroness Williams expressed criticism of Mr Clegg's leadership.
Mr Browne, a former minister in the Home Office and Foreign Office, said he was uneasy about pitching the Lib Dems as a party that split the difference between Labour and the Conservatives.
Baroness Williams, the party's former leader in the Lords, said Mr Clegg had not made sufficient use of more experienced colleagues, and she criticised the quality of some of those around him.
Nick Clegg: The Liberal Who Came To Power will be broadcast on BBC Radio 4 at 20:00 GMT on Monday 17 February