Defence equipment costs 'stabilise' but risks remain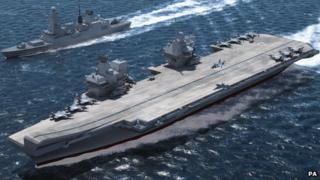 The UK's defence equipment budget has "stabilised", a new report suggests, with no major cost increases for many of its most expensive projects.
The National Audit Office (NAO) said there were "positive" signs that military hardware could become more affordable after the missed deadlines and budget overruns of recent years.
But it warned the cost of new aircraft carriers rose by £754m last year.
And it said equipment support costs had not be subject to the same scrutiny.
The coalition government says it is addressing a multibillion-pound "black hole" in defence procurement spending that it inherited when it came to power.
'More accurate'
As part of this, it has published an "affordable equipment plan", setting out details of all procurement projects, totalling £159bn between 2012 and 2022.
Defence Secretary Philip Hammond said: "The NAO's report is clear evidence that better financial discipline across the MoD is having a positive effect on the way we procure equipment for our Armed Forces.
"Unlike the past, we do not have to make short-term cuts that delay programmes to simply live within our means.
"Balancing the budget and providing a clearer and more accurate forecast of our future requirements and resources has put the MoD in a stronger position to respond to unforeseen changes and negotiate a better deal with industry."
In an analysis of the Ministry of Defence's annual accounts for 2013, the spending watchdog said progress was being made in addressing the "affordability gap" and creating greater certainty on procurement costs.
Of the current 11 largest defence hardware projects, more than half had falling costs last year while the number of projects experiencing further delays decreased.
'Increased stability'
On the other hand, the report said the "large and complex" aircraft carrier replacement programme, which has been beset by problems in recent years, continued to weigh on the budget as a whole.
The cost of building two new aircraft carriers has steadily risen. When the contract was approved in 2007, costs were put at £3.65bn - but the MoD now estimates it will be about £6.2bn.
"With the exception of the aircraft carriers, the MoD's largest projects have not shown significant increases in costs over the year and only small in-year delays," said the NAO's head Amyas Morse.
Despite this "increased stability", the watchdog warned there were still risks to the affordability of future equipment purchases.
"Most significantly the department has not subjected the half of its equipment budget related to support to the same degree of scrutiny as its procurement costs," Mr Morse added.
The Commons Select Defence Committee warned last year that the UK had frequently bought equipment worth billions of pounds that it did not need but that officials were starting to "get a grip" on past waste.
Prime Minister David Cameron has pledged to increase equipment budgets - which account for about 40% of total defence spending - by 1% after 2015.
However, plans to privatise the UK government's defence procurement arm were scrapped last year.