Syria refugees: MPs press Theresa May to back UN resettlement programme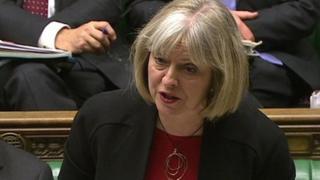 MPs have renewed pressure on the government to take part in a UN-led programme to resettle Syrian refugees.
Labour's shadow home secretary Yvette Cooper said some refugees were "too vulnerable" to survive in camps, urging Theresa May to back the UN programme.
In response, the home secretary emphasised the UK's provision of humanitarian aid to the region.
But she hinted that ministers were preparing to alter their stance on resettling refugees of the crisis.
'Family connections'
She had been discussing the matter with Foreign Secretary William Hague and further announcements would be made "in due course", Mrs May told MPs.
The UK "has a fine record in terms of the amount of money that we are providing in humanitarian aid, which is the largest sum of money of any of the European Union countries", Mrs May added.
She said: "We also have accepted, in the last three years, several thousand asylum seekers from Syria and that is another way in which we are appropriately offering support.
"And we do, through the mandate programme, have the ability of refugees, who have particular family connections here, where family are willing to support them, to be able to take refugees through that route."
Ms Cooper said MPs from all parties backed the UK's financial support to Syria, but argued that it was wrong to suggest the government could not both send aid and resettle refugees.
A minority of refugees were "too vulnerable to come" to the UK to seek asylum, "or to survive, even, in the camps", she said.
"That is why it's so important to provide that extra help - this is not an either/or."
'Particular obligation'
In September, a United Nations High Commissioner for Refugees (UNCHR) spokeswoman said: "Resettlement of refugees, whether formal resettlement or expedited relocation... is a vital and potentially life-saving tool for helping particularly vulnerable refugees.
"Those resettled may be women and girls at risk, people with serious medical conditions, survivors of torture or others with special needs."
But last week, Immigration Minister Mark Harper had said that taking part in the programme would merely be a "token" gesture, Ms Cooper recalled.
This conveyed that "Britain would not provide sanctuary to any vulnerable refugees, to torture victims, abandoned children and others", she said.
"But we and others in this House, across the House, were urging you to help."
The exchanges came ahead of a Labour-led parliamentary debate on the UNCHR programme, which is due on Wednesday.
Former Liberal Democrat leader Sir Menzies Campbell added: "Many of us believe, that in the matter of Syrian refugees, the UK as a permanent member of the Security Council, has a particular obligation.
"How can it be that we are not able to accept some of the children who have suffered so grievously as the result of the unrest in Syria; traumatised, orphaned and, in some cases, disabled?
"Surely this is a matter for humanity on the part of this government."
Mrs May said: "This is an issue which is of concern to people across this whole House, and the government is looking at what is the most appropriate way for us to provide support and enhance support that we are already giving.
"Announcements will be made in due course," she continued, before telling MPs they could expect to receive an update before the Commons debate on Wednesday.