No role for spouses at forthcoming Anglo-French summit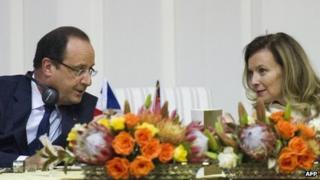 David Cameron and Francois Hollande will not be officially accompanied when they hold talks later this week.
There was speculation about the protocol for Friday's Anglo-French summit in Oxfordshire after the French president split from his long-term partner Valerie Trierweiler.
But Downing Street said there would not be an "official spouses' programme".
The meeting, at the Brize Norton airbase, is expected to focus on defence and energy co-operation.
The two leaders are expected to hold a news conference at the end of the one-day event, which is being held in the prime minister's parliamentary constituency.
Mr Hollande ended his six-year relationship with Ms Trierweiler - who was regarded as France's first lady - after reports that he was having an affair with actress Julie Gayet.
The French media were criticised for not pressing Mr Hollande more closely on the matter after he appealed for privacy and Ms Gayet said she would sue the publication which claimed the two had held clandestine meetings.
Ms Trierweiler accompanied Mr Hollande on many of his foreign trips after he took office in 2012 but is currently visiting India in a private capacity.
Traditionally, the spouse or partner of a leader oversees a programme of events for their counterparts during summits and state visits.
In that capacity, Samantha Cameron has looked after US First Lady Michelle Obama and others in recent years. The French president was last officially in the UK for the G8 summit in June.