Public perception of armed forces 'a strategic threat', say MPs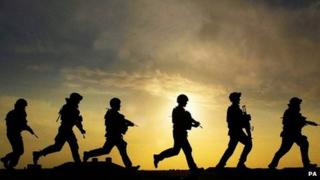 A lack of public understanding about the role of the armed forces is "one of the greatest strategic threats" facing the UK, MPs have warned.
A reduced appetite for overseas interventions could cast doubt on the importance of defence spending, the Commons defence committee explained.
Further cuts would result in a "disproportionate decline" in the forces' fighting power, it added.
But the government said defence could not be immune from spending cuts.
In its latest report, the committee called on ministers to tackle the "disconnect" it had identified with the public by explaining why military force was still needed in the current strategic environment.
"The government cannot hope to bridge this divide without looking to explain what it believes the UK's position in the world could or should be, and the manner in which that is to be delivered," it said.
"The imminent end of operations in Afghanistan provides an opportunity for the government to think more strategically about the UK's place in the world.
"Explaining the case for defence to the public only becomes harder in the light of public scepticism about both the objectives of recent operations and how success in them might be defined," it said.
'False economy'
The committee also said the last Strategic Defence and Security Review in 2010 had been driven by the "overriding strategic objective of reducing the UK's budget deficit".
Shadow defence secretary Vernon Coaker argued: "This report from the Defence Select Committee supports Labour's view that the government made a mistake in not adopting a strategic approach to the 2010 Defence and Security Review.
"Instead of looking at what was necessary to ensure the continuing safety and security of Britain and our place in the world, the review was driven solely by financial considerations.
"That is not the right way to plan for the future defence capability of the United Kingdom. It is a short-sighted, false economy."
Defence Secretary Philip Hammond said: "We welcome the committee's focus on a strategic approach, but it is unrealistic to think that defence can operate in a vacuum, without having regard to the fiscal challenges the country faces.
"A meaningful SDSR has to balance strategic and fiscal challenges to find a sustainable solution for defence."
But he agreed that: "Public understanding of the wide range of tasks our Armed Forces undertake to defend our security and interests is vital to maintaining support for defence spending in the future."