Clegg urges Cameron to back 2010 election debate format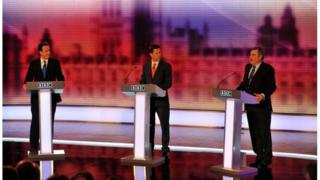 Nick Clegg has urged David Cameron "to sign on the dotted line" for a repeat of the format of the 2010 general election debates.
The Lib Dem leader suggested both he and his Labour counterpart Ed Miliband backed having three debates over consecutive weeks before polling day.
This was a "success" in 2010 and the "public liked them", he said.
The Conservative leader has suggested staging debates over a longer period, not just during the five-week campaign.
He has suggested that such a quick sequence of debates in 2010 took up too much media attention and took some of the gloss off the rest of the campaign.
But speaking at his monthly press conference, Mr Clegg - widely regarded to have performed well in 2010 - said they were a step forward and should be repeated.
Labour MP Lucy Powell, who is close to party leader Ed Miliband, said the party leaders needed "to get round a table and resolve the issue".
Speaking on the BBC's Daily Politics, she suggested Mr Cameron was a "lot less keen" on the idea than he had been in 2010.
And UKIP leader Nigel Farage has repeated calls for him to be included in the debates - saying "politics has gone through a big change" since 2010.
He told the BBC that UKIP had leapfrogged the Lib Dems in some opinion polls and the public wanted a "bigger debate in politics".
Excluding him from the debate would give his party "underdog status", he added.
Mr Cameron told the BBC in September he wanted the debates to take place again but said "I think we could start them a bit earlier... now we've got a fixed-term parliament we can stretch these things out a bit".
He also said it should be "predominantly" about people who have a chance of being PM, a category which he said did not include Mr Farage.