UK Army head in Taliban attacks warning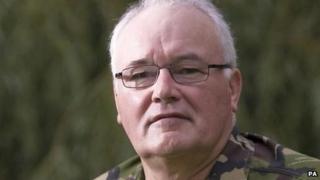 The head of the British army has warned the Taliban could retake lost territory after troops leave Afghanistan.
General Sir Peter Wall said, with UK combat forces due to withdraw by the end of next year, it would be "quite bad news" if some areas changed hands.
The Taliban would fight for land which forces had "suffered significantly" to capture, he told the Daily Telegraph.
David Cameron said last week that UK troops had accomplished their mission of making Afghanistan more secure.
The Afghanistan mission began in 2001, with 447 personnel losing their lives since then.
On Friday, Nato confirmed that three services members had been killed in a suicide attack on the capital Kabul.
'Tough campaign'
About 5,200 UK troops are now based in Afghanistan, down from 9,000 at the start of the year, and the government is committed to removing all combat forces by the end of 2014.
On a visit to to the country earlier this month, Mr Cameron said a "basic level of security" had been achieved and troops could "come home with their heads held high".
Asked if personnel were coming home with the message "mission accomplished", the prime minister said: "Yes, I think they do."
He added that the "driving part of the mission is a basic level of security so it doesn't become a haven for terror" and that forces "will have accomplished that mission" by the time they leave.
Military experts have said UK troops have been broadly successful in fulfilling their central objectives - set out in their United Nations mandate - of protecting the Afghan population and institutions from Taliban insurgents and ensuring al-Qaeda did not regain a foothold in the country.
However, senior military figures are braced for increased activity next year as more troops pull out and expect elections to be a particular focus for insurgent groups.
Sir Peter, Chief of the General Staff, told the Telegraph a "tough campaign" had achieved its primary aim of disrupting the al-Qaeda network, so that it could no longer organise plots from safe havens in Afghanistan.
But he said: "The Taliban will be contesting the places we've left and there are these iconic places like Musa Qala which we fought over and suffered quite significantly. It would be quite bad news if the Taliban were to get back into a place like that.
"The Army's head is up. People are extremely proud of what they have achieved."
But Sir Peter argued that "more moderate" Taliban members could be "assimilated into the political process".
BBC News correspondent Karen Allen, who has just returned from Afghanistan, said Sir Peter's comments struck a more measured tone perhaps than Prime Minister David Cameron's recent statement about Afghanistan.
Asked earlier this month whether Mr Cameron's comments had risked seeming premature, a Downing Street spokesman said he had not used the words "mission accomplished" himself but had responded to a question from a journalist accompanying him.
The head of Nato, Anders Fogh Rasmussen, has said international forces "achieved what we came here" for by preventing terrorists using the country as a safe haven.