Nick Clegg urges end to 'job for life' culture in Lords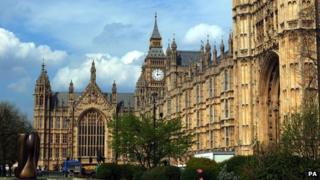 Big changes are needed to the House of Lords to change the "job for life" culture among peers, Deputy Prime Minister Nick Clegg has said.
Mr Clegg said he would back plans for peers who do not attend or bring the House into disrepute to face sanctions.
It comes after independent peer Lord Hanningfield suggested half its members clock in and out of the Lords for a few minutes to claim a £300 daily fee.
Ministers said they were "dismayed" by the claims and action was needed.
Former Conservative Lord Hanningfield made the claim on Monday in response to allegations in the Daily Mirror that on 11 of 19 occasions when he attended the Lords in July he spent less than 40 minutes there.
Members of the House of Lords are not paid a salary but can claim a daily allowance of £300 if they attend a sitting or carry out other "appropriate" work.
Some peers claim at the reduced rate of £150 a day while others do not claim at all.
Although there is no suggestion Lord Hanningfield broke any rules, Labour MP John Mann has written to the Metropolitan Police asking them to investigate the matter.
The police say they have no knowledge of the letter and are not aware of having received it.
Speaking on Monday, leader of the House of Lords Lord Hill said the publicity about Lord Hanningfield's conduct "cast a shadow" over the whole House.
He said the government was considering how to deal with peers "whose behaviour falls below the standards we rightly expect" amid calls for the code of conduct for peers to be strengthened and allowances to be contingent on members spending a certain number of hours in Parliament.
A Conservative MP has put forward proposals in a private members' bill to bar peers convicted of a criminal offence from attending and making it easier for peers to retire - plans Mr Clegg has previously dismissed as "tinkering".
But writing in the Daily Mirror on Wednesday, Mr Clegg said the government would support moves to "kick out crooks and create sanctions for Lords who barely turn up".
However, he said more root-and-branch change was needed and reiterated his party's commitment to an elected Lords - despite the coalition having to abandon plans last year in the face of Conservative opposition.
"A big part of the problem is that, right now, a place in the House of Lords amounts to a job for life," he wrote.
"Unelected peers do not need to seek voters' consent. Our Parliament should be the envy of the world: a modern, transparent and democratic institution. Instead it is a relic from the 17th Century."
There are currently 779 "eligible" members of the House of Lords. More than 40 other peers have taken a "leave of absence" for health or professional reasons, meaning they cannot attend.
A voluntary retirement scheme was introduced in 2011 but so far only three peers have chosen to use it.
Lord Hanningfield, a former leader of Essex County Council, claimed £5,700 in total for his 19 days of attendance during July and the Mirror reports his shortest attendance that month was 21 minutes.
During July, Lord Hanningfield did not speak in any debates or attend any committee hearings although since October he has spoken twice and submitted four written questions.
When confronted by the Mirror about the claims, Lord Hanningfield said "at least half" the members of the Lords checked in to claim expenses.
He said he spent half of the £300 daily fee on expenses and so did not really make any profit. He was a full-time peer who needed the money to pay his electricity bills and buy food, he added.
In 2011, Lord Hanningfield served nine weeks of a nine-month sentence for parliamentary expenses fraud totalling nearly £14,000 but maintains he was wrongly convicted.