UKIP leader Nigel Farage to have back surgery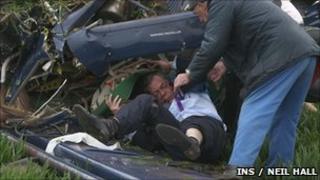 UKIP leader Nigel Farage is to have an operation to treat back injuries caused by an air crash in 2010.
It is understood that he will have an operation on his back on Tuesday.
The MEP had to cancel an appearance at his party's North East regional conference after ongoing back problems flared up. Party sources say he is currently in agonising pain.
He suffered the injuries after the plane he was in crashed on General Election Day in May 2010.
In a video message to a North East delegate dinner in South Shields on Friday night, he said he was "gutted" not to be with them but said he was seriously incapacitated.
He added that doctors had told him his workload had exacerbated the problems.
Mr Farage said it was important to get treatment so he could play a full part in next May's European and local elections, and the 2015 general election.
The party is holding its first ever North East regional conference in Tynemouth this weekend after 12 months in which it has finished second in parliamentary by-elections in Middlesbrough and South Shields.
In his video message, Mr Farage said UKIP was now the main opposition to Labour in the north.
The crash in Northamptonshire on 6 May 2010, left both the pilot Justin Adams and Mr Farage in hospital.
An Air Accidents Investigation Branch report found the plane crashed when a campaign banner it was towing became entangled, causing the plane's nose to drop.
A subsequent Civil Aviation Authority (CAA) inquiry, which looked into whether Mr Adams was qualified to fly with a banner, cleared the pilot.