Openness needed on Whitehall deals, says watchdog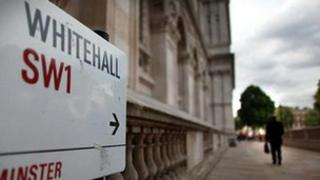 Ministers must ensure openness over the performance of private contractors or face a "crisis of confidence", the National Audit Office has warned.
Firms such as Serco, Capita, G4S and Atos were being paid hundreds of millions of pounds each year, it said.
But the spending watchdog called for more punishments - such as fines and exclusions from future contracts - where "problems" were reported.
The government said it was working to create better value for money.
The National Audit Office (NAO) has published two reports looking at major public service contracts.
It said Serco's were worth £1.8bn, including £611m with the Ministry of Defence and £382m with local government.
Capita's totalled £1.08bn, while those for G4S and Atos were £718m and £683m respectively.
'Political fallout'
The NAO said the Cabinet Office, which oversees much of central government, often lacked "commercial experience and expertise below senior levels", and information on its 40 strategic suppliers was "inconsistent and incomplete".
The public sector profit margins for Serco appeared to be between 0% and 9%, between 1% and 10% for Capita, and between 3% and 22% for Atos.
G4S made an overall loss on some of its public sector contracts last year, giving an overall return ranging from -8% to 16%.
The reports mentioned continuing investigations into issues with contractors, including the Ministry of Justice looking at the way G4S and Serco had billed it for electronic tag monitoring.
The NAO said: "Transparency is needed to ensure that no-one within the contractor can hide problems and that it is in the contractors' commercial interest to focus on their client's (the government's) needs."
Companies would "likely concentrate on maintaining shareholder value", it said, adding: "Government needs to ensure that it is in the contractors' financial interests to focus their control environment more widely on meeting the standards expected of public service.
"This involves using contractual entitlements to information, audit and inspection to ensure standards are being met.
"And it is likely to involve financial penalties, banning from competitions and political fallout when problems are found."
'High-profile failures'
NAO head Amyas Morse said there was "a crisis of confidence at present, caused by some worrying examples of contractors not appearing to treat the public sector fairly, and of departments themselves not being on top of things."
He added: "While some government departments have been admirably quick off the mark and transparent in investigating problems, there is a clear need to reset the ground rules for both contractors and their departmental customers."
The Institute for Government's director of research Tom Gash said: "The current pace and scale of outsourcing outstrips the ability of Whitehall officials to design and manage complex contracts effectively.
"Government should therefore phase changes when outsourcing services for the first time and avoiding contracts that lock taxpayers into service models that can quickly become outdated when policies, technologies or provider capabilities change.
"Without a more transparent and measured approach to outsourcing, high-profile failures are likely to multiply."
But a Cabinet Office spokesman said: "Last year alone we saved taxpayers £3.8bn from our commercial reforms, including renegotiating contracts with our largest suppliers, and we welcome the NAO's recognition of our achievements.
"Since the general election we have made it easier for smaller businesses to work with Whitehall and many more are winning contracts."
He added: "We know that the civil service lacks commercial capability and that contract management needs to be improved.
"Our reform programme seeks to address this but we must accelerate change to save taxpayers more, create better quality public services and promote growth."