Tim Loughton accuses police chief of 'losing the plot'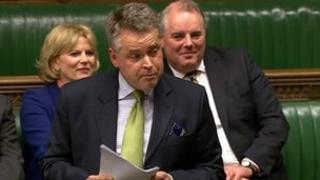 Ex-children's minister Tim Loughton has accused Sussex Police's chief constable of having "lost the plot" after the MP was issued with a harassment warning.
The Conservative MP for East Worthing and Shoreham said a constituent of his had been "harassing, bullying, stalking, trolling and abusing" him.
But Mr Loughton had been served with a police information notice for writing back just once, he told MPs.
Sussex Police said it "robustly defended" its handling of the case.
The MP was given permission to hold an emergency Commons debate after Commons Speaker John Bercow agreed that the decision to issue the notice should be given "the precedence accorded to matters of privilege".
Suicide tweet
Mr Loughton has been involved in a long-running row with a constituent who has accused him of racism.
In a Commons debate in March, he said the man had "worked tirelessly to try to make my life hell".
Mr Loughton said the constituent had sworn at him, accused him of lying and arrogance and published "creatively doctored photographs" on his blog - including one depicting the ex-minister "toting a smoking gun in a playground full of screaming, fleeing children".
The MP would therefore take the novel approach of "sacking" him as a constituent, he declared, by severing contact with him.
To notify the man of his decision, Mr Loughton decided to mail him a transcript of the debate, an act which he believed would be protected by parliamentary privilege.
But the online abuse had continued, the MP explained: "He's posted vile contorted accounts of my parents' divorce [on his blog], forged tweets, posted references to my neighbours, photographs of my home, and most recently a direct tweet urging me to commit suicide.
"Despite my complaints, on just one occasion this has led to his arrest. The police have failed to secure any charges, and he carries on harassing, bullying, stalking, trolling and abusing me, my family and colleagues.
"However, on 4 September, out of the blue, I had a formal police information notice, a Pin notice, served on me by Sussex Police for harassment."
'Declaration of war'
The notice had made him aware that, "if the kind of behaviour described were to continue, then I would be liable to arrest or prosecution and the specific single-incident behaviour which gave rise to this Pin was the act of sending a copy of Hansard to my constituent".
The MP said the Sussex force's chief constable had been "content to waste taxpayers' resources on this nonsense, whilst senior management of his force is brought into disrepute".
The chief constable had "clearly lost the plot when it comes to distinguishing between the victim and the perpetrator", he concluded.
At the end of the debate, MPs agreed unanimously to refer the police information notice to the Commons Standards and Privileges committee for investigation.
But the constituent told the BBC that he denied carrying out a campaign of abuse and regarded Mr Loughton's speech as a "declaration of war".
He said he was still recovering from Mr Loughton's comments about him - he added that he wanted to see the MP arrested and charged.
Mr Loughton has previously been interviewed by the force for 90 minutes under caution on suspicion of sending a malicious communication after he wrote an angry email to the constituent, swearing at him and describing his appearance as "unkempt".
The man complained to the police that this constituted "racism" because he is of a Romany Gypsy origin but Mr Loughton denies any knowledge of his heritage.
Six months after being questioned, Mr Loughton was informed that no further action would be taken.
'Strongly support'
Sussex Police assistant chief constable Robin Merrett said: "We have attempted to mediate between all of the parties involved in this incident for some time but some have declined to engage in this process and our attempts to do so have not been successful.
"We did not wish to criminalise anyone, but it became apparent that the issue was not going to be resolved among those concerned and that some form of action was necessary in order to prevent it escalating further.
"After much consideration and independent scrutiny, the decision was taken to bring matters to a conclusion by issuing Pins (police information notices) to all of the parties involved. However, it appears that Mr Loughton does not consider the matter closed.
"In his speech Mr Loughton focused in particular on the supply of the Hansard record to suggest that Sussex Police has interfered with the parliamentary process. The person who received the Hansard report believed it to be a continuation of harassment against him and subsequently reported it to us.
"We would never seek to interfere with parliamentary processes or privilege but I strongly support actions taken by the force, which have been subject to independent legal scrutiny.
"We will of course await the views of the Committee of Privileges before commenting further."