Peer apologises for claim he phoned litterbugs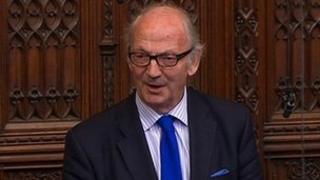 A peer has apologised for "unintentionally" giving the impression he tracked down litter louts by getting their phone numbers from the DVLA.
Lord Selsdon claimed that he noted the registration numbers of drivers he saw discarding rubbish and got hold of their details to tell them off.
The claim led to calls for an inquiry into the misuse of personal data.
But Lord Selsdon told peers on Monday he had not asked for or been given any data not already in the public domain.
Lord Selsdon made his controversial comments on Friday as peers debated the Littering From Vehicles Bill, which would see the owner of vehicles from which litter is thrown facing civil fines.
'Bit of fun'
He claimed that he had "friends with DVLA" and that, for a "bit of fun", he would contact them to obtain the details of drivers he had seen throwing rubbish from their cars, particularly owners of 4x4 vehicles.
He suggested he had "occasionally managed" to speak to a number of transgressors to tick them off.
The peer's claim triggered calls by Labour and the Information Commissioner's Office for an investigation into whether confidential data had been breached.
But, in a "personal statement" to peers at the start of business on Monday, the peer said his suggestion that he "might have been provided with the personal data of motorists by the DVLA" was "unintentional".
"I would like to confirm I have not, at any time, asked for or been given by the DVLA any information which is not in the public domain," he said.
"In particular, I have not been given names or particulars of vehicles.
"I much regret that my speech, without text or notes, should have given rise to press speculation to the contrary and I would like to apologise to the House."
The DVLA has said it will be contacting the peer to ask for further details. It keeps records of all vehicles licensed for road use, with names and addresses of the owners, but phone numbers are not registered.
It is only allowed to give information out if there is a "reasonable cause" - such as tracing owners of abandoned cars.
The organisation said information was only provided "under strict controls" to those who are legally entitled to it, such as local authorities and the police.