PM rules out tax pledges but says he is 'low-tax' Conservative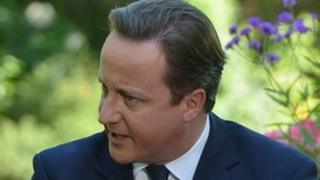 David Cameron has refused to rule out tax rises after the next election, but said his goal is to "give people back some of their hard earned money" as the economy improves.
Chancellor George Osborne said recently that further tax rises would not be needed after 2015 to cut the deficit.
Asked whether this amounted to a firm pledge, Mr Cameron said no leader could give a "blanket assurance".
But he said reducing people's taxes was what "drives" him as a Conservative.
None of the three main parties is expected to set out detailed tax plans before the next election, but Mr Osborne has suggested his party's approach would be different from Labour's and that the opposition would be likely to raise taxes.
Commentators say the government's target of eliminating the bulk of the deficit - the shortfall between what it raises in revenue and what it spends - implies further austerity measures well into the future.
'Healing'
But speaking last month, the chancellor said tax rises "were not required" to achieve future borrowing targets and they could be met solely by further cuts in spending.
The government has signalled an additional £11.5bn in cuts will be needed in 2015-16 - the period immediately before and after the next general election - on top of the existing £80bn squeeze in public expenditure between 2011 and 2015.
But the Institute for Fiscal Studies has pointed out that incoming governments actually raised taxes in 2010, 2001 and 1992 and the government's commitment to protect the NHS, schools and international aid from cuts leaves it little room for flexibility in future.
Pressed on the issue, Mr Cameron told the BBC's Andrew Marr show the coalition had the "right balance" between the share of spending cuts compared with tax rises, which has been roughly at a ratio of 80% to 20% since 2010.
He said Mr Osborne was "absolutely right" to say the government's outlook does "not include any plans for tax rises".
Asked whether he was prepared to make a commitment similar to that by President George Bush senior in 1988 - who famously said "read my lips, no new taxes" - he said he had made specific promises on issues before the 2010 election and kept them.
But he said "no prime minister can ever give a blanket assurance about every single thing under the sun".
'Iron discipline'
However, he said his objective was to lower the tax burden as the economy "grew stronger".
"I am a low tax Conservative. I think as we start to see the economy healing - and it is healing - as we see the country improve, actually I want to give people back some of their hard-earned money and try to reduce their taxes.
"That is what drives me as a Conservative. I think your economy does better if you say to people you have worked hard, you have done the right thing, here is some of your own money back in a tax reduction."
By 2015, under the coalition's plans, no-one will pay tax on the first £10,000 of their earnings, but the government has been criticised for lowering the top rate of tax from 50% to 45% - described by Labour as a "tax cut for millionaires".
The Lib Dems have said the wealthiest in society should pay more in tax in the future, including through a levy on properties worth more than £2m, while low-earners should continue to pay less.
Labour has said it would have an "iron discipline" on spending in government while re-instating the 10p income tax band.