Government procurement still not good enough, say MPs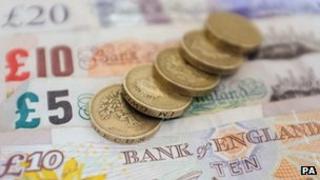 The government is still not doing enough to tighten up the way it buys equipment and services, say MPs.
Procurement in the UK takes longer than it does in France and Germany and progress on making it more centralised has been "painfully slow", they say.
Their report says a "fundamental shift" is needed in the civil service's ability to run effective procurement
The government says its reforms have already saved billions for the taxpayer but it knows there is "more to do".
The public sector spends £227bn a year on goods, services and works - £45bn of which is controlled by Whitehall departments. The Ministry of Defence, which has been criticised repeatedly for the way it spends money, spends £20bn a year.
'Risk averse'
The public administration committee says if the process was made more efficient, big sums could be saved and it could even drive economic growth.
It welcomed moves to make the process more efficient but said that procurement and management failures - recent examples of which could be seen in contracts the Ministry of Justice had with G4S and Serco - "continues unabated".
Justice Secretary Chris Grayling has accused the firms of overcharging for tagging criminals in England and Wales.
The report said the UK had fallen behind other EU countries in securing contracts for its own companies to help national economies and said procurement generally in the UK took 50% longer than it did in France and Germany, despite operating under the same EU rules, due to a "process-orientated, risk-averse culture".
Committee chairman Bernard Jenkin said the government had made efforts to centralise procurement but "progress so far has been painfully slow and sporadic".
"The government has failed to set out a clear strategy for public procurement and it may be impossible to achieve this without changing the relationship between departments and the centre ... The government is a single customers and should behave as such."
The Cabinet Office said it had already halved the length of the average procurement process from 208 working days to 102, slimmed down procurement guidance, stripped out "unnecessary procedures" and used "bulk-buying" powers to get the best value from suppliers - something it said had saved £3.8bn in 2012/13.
A spokesman said: "We are pleased that the public administration select committee highlights our progress to improve data, act as a single customer and renegotiate contracts, and we will study the report carefully and respond in due course.
"Our unprecedented reforms to transform Whitehall into a leaner, more efficient machine that manages its finances like the best-run businesses generated £10bn of savings for the taxpayer last year alone. These reforms will help ensure Britain can win the global race. But we know there's more to do and so we will keep pushing ahead."