Ken Clarke: Leaving European Union would be error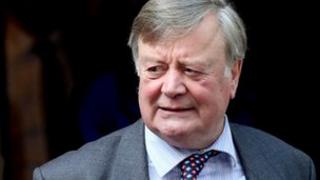 Leaving the European Union would be a "historical error", a manifesto backed by Conservative cabinet minister Ken Clarke warns.
The document, also supported by Labour's Lord Mandelson and Lib Dem Danny Alexander, urges the UK to use its "clout" to improve the EU.
It states that the organisation has to become "leaner and meaner".
David Cameron has promised an in-out EU referendum by the end of 2017 if the Tories win the next general election.
The prime minister says this would follow a thorough renegotiation of the UK's relationship with Brussels.
Opponents of remaining in the 28-member EU say the institution has undermined sovereignty and is evolving so as to minimise UK influence over it.
'Rebooted'
Mr Clarke, the minister without portfolio, is the Conservative Party's most prominent Europhile.
Mr Clarke, along with Chief Secretary to the Treasury Danny Alexander and former Business Secretary Lord Mandelson, have launched a manifesto called Better off in a Better Europe - backed by the British Influence group of which they are all members.
It warns against threatening "unilateral repatriation of powers", but argues that the EU must be "rebooted for the 21st Century".
The document says further treaty change within the EU is "inevitable", and that control should be returned to member states in some areas.
Mr Clarke said: "David Cameron has already shown what can be achieved in Europe through strong, determined leadership.
"This document brings out the huge further rewards the British can reap by remaining doggedly engaged in Europe, and determined to help set the agenda.
"We earn our living in a globalised economy and a world in which nations are interdependent in tackling global and regional problems.
"We can help to promote our own interests best by reinforcing our role as a leading nation in the EU."
Mr Alexander said the EU was "one of the central pillars of British prosperity and security", underpinning more than three million UK jobs..
And Lord Mandelson said: "If Britain quit the EU, amongst the losers would be businesses foregoing trade and investment opportunities, their employees whose jobs and workplace rights would be at risk, the police and security agencies who would sacrifice vital collaboration and the British people who would lose the freedom to travel, live and work as they wish across Europe.
"In return we would get the dubious satisfaction of standing alone in the world."
Mr Clarke was one of only five Conservative MPs who did not vote earlier this month in favour of Tory James Wharton's private member's bill calling for an EU referendum.