Becoming a Labour candidate: One man's story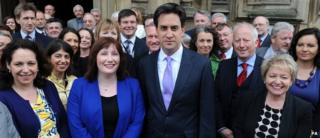 With Labour selection procedures in the spotlight, journalist and campaigner Ben Davies gives his account of efforts to be picked as an election candidate for the party.
The portrayal of Labour selection proceedings in Falkirk has more than a whiff of the bad old days for those of us who have followed politics for any length of time.
Scheming and double dealing, the Trotskyist entryists of the 1980s, alleged trade union domination.
All of it must have come as a welcome relief for David Cameron, but none of it rings very true to me - unless things have changed dramatically in just a few short months.
I've been a lifelong Labour supporter - even when at a public school where the common wisdom was that Margaret Thatcher could do no wrong, Nelson Mandela was a terrorist and Kinnock's Labour was equivalent to Stalin's Communists around the time of the Great Purge.
But it was after Ed Miliband's election as Labour leader that I started thinking about running to be an MP and a few months later applied for selection in Hove and Portslade - being a Labour Party member I was able to fill out the candidates' CV and send it in.
Hustings pitch
I was amazed when I received a phone call inviting me for an interview. I'd made the longlist.
My joy was short-lived however. The process was postponed the week I was due to give my pitch to the selection committee because of the sudden, now abandoned, proposal to reorganise constituency boundaries.
Labour's selection procedure had fallen foul of what would turn out to be a Lib Dem/Conservative dance-off.
I was disappointed when they finally cancelled the contest but no less determined. I applied for two further seats in quick succession. Waveney - in Suffolk - then Stroud in Gloucestershire.
In both contests I was up against the former MP. In Waveney I made it through to the longlist and did my turn in front of the selection committee just after ex-member Bob Blizzard had emerged from doing his.
Blizzard of votes
Mr Blizzard narrowly lost the seat at the last election and had been a local council leader so it was tough going up against him and against the other less prominent, but nevertheless local candidate in the final hustings in front of the constituency party membership.
I had no chance - I knew that.
So I pitched myself strongly at the trade union and green/left of centre vote. My public school-accented declaration of devotion to socialism rang out across the rather still audience in a Lowestoft hotel.
They were very polite and I was a shoo-in for third - Bob Blizzard's votes emerging from the ballot boxes with wearying speed. It was Bob's night and rightly so.
In Stroud I was able to claim a wealth of family connections - relatives born in the local workhouse, bandsmen, labourers. My great, great grandfather walking to London to find a job.
But the message came back shortly afterwards. Disappointingly I hadn't made the shortlist. Clearly - I consoled myself - local isn't local when it's 80 years distant.
Then I got on to Labour's Future Candidates scheme - no smoke filled rooms, no secret deals. Just an application form.
Training day
I found myself one Saturday a few months later on a training day in Labour HQ with a gaggle of people some of whom may well turn out to be MPs and councillors, and others who most probably will not.
It was a helpful process explaining how Labour's selections work. Since then I've applied for several other seats and am finding that the nearer we get to the next election the tougher the field of candidates.
At one point I was thinking of applying for North East Somerset and talked to Unite about what help they could provide.
Labour-affiliated unions sponsor candidates and I figured if the seat's current MP - Jacob Rees-Mogg - can use his nanny to canvass support, I could seek the support of fellow trade unionists in Unite as part of my selection bid.
As it happened I didn't apply in the end not being able to commit enough time - but I understood Unite might have been willing to help me with my campaign literature.
I am not sure how well it would have gone down in Somerset. But a Unite logo would have looked nice on my brochure - sat just below that story of my great-great grandfather walking to the capital to look for work.