Hecklers gain Bercow revenge, by Gove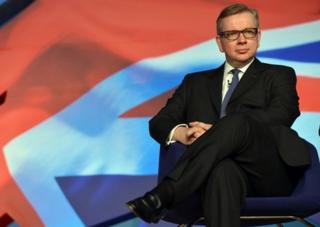 For those looking for a full account of what Michael Gove said in his tribute to the Speaker during the Conservative family photo this evening, it went something like this.
The education secretary was not in shot for the photograph so was apparently encouraged to sit in the Speaker's chair so he could be seen.
And from that vantage point, he could not resist delivering an affectionate impression of John Bercow, calling in turn the three Conservative MPs who have all suffered a tongue-lashing this week.
"I call Iain Liddell Granger for saying nothing," Mr Gove began, a reference to the fact that Mr Liddell Granger had been scolded by the Speaker for heckling even though it was not him.
"I call the secretary of state for defence for his omni-competence," he continued, a reference to the fact that Philip Hammond had been accused of incompetence by the Speaker for not giving MPs the right documents.
And then, referring to an MP whose question the Speaker dismissed as a complete waste of time, Mr Gove said: "And I call Richard Ernle Erle Plunkett Drax whose name is more polysyllabic than one of my more customary ejaculations."
Hon members: Laughter.